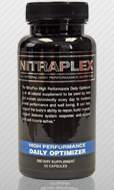 True Healthy Products, a company that focuses on products for improved health and well-being from natural sources now offers a supplement for anti-inflammation and improved circulation.
(PRWEB) November 15, 2011
Florida based vitamin and supplement company, True Healthy Products is a company that focuses on natural ways to improve health and wellness. The company is now offering a supplement which promotes better circulation and eases pain from joint and muscle inflammation called "Daily Optimizer".
To view the video about "Daily Optimizer" please go to: http://www.truehealthyproducts.com/products/sports-nutrition/nitraplex/nitraplex-daily-optimizer
True Healthy Products worked with body builders and athletes during product trials and noted that in addition to relieving joint and muscle aches, the product helped those who took it to heal from their physical excursions much more quickly than they could on their own. They also achieved more ease of movement with less aches and pains in the morning.
"It really aids in recovery after a workout, there's fewer aches and pains, less inflammation and I can get through my day a lot easier with it," says Natalie Waples, IFBB Pro North American Figure Champion.
According to the formulator, Andrew Wood, the all-natural Daily Optimizer was formulated by True Healthy Products to relieve joint aches and muscle aches, increase overall performance and well being, help enhance the body's ability to repair and build muscle, increase immune system response, and increase blood flow.
The company supports a full line of all-natural products to deliver stamina, ease of mobility, protein supplementation and accelerated healing through natural solutions, along with weight loss diets, and skin care products.
To learn more about the benefits of the Daily Optimizer or other products that are good for you, please visit True Healthy Products at TrueHealthyProducts.com where there are articles and tips for healthy living.
Toll Free: 888-400-2920
2460 N Courtenay Parkway, #210
Merritt Island, FL 32953
USA
###