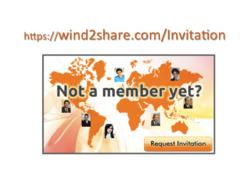 It is a Social Network that adds value to your personal and professional relationships
Miami, FL (PRWEB) November 15, 2011
wind2share announces the launching of its innovative web platform on November 16, at the Private Banking Latin American Forum, taking place at the Four Seasons Hotel in Miami.
Alejandro Riquezes, founder of wind2share, will make a brief introduction on Tuesday the 15th at the panel session: "How should wealth manager review technology solutions." On Wednesday the 16th, a complete presentation and demonstration will take place at the interactive round table: "Social media and networks."
wind2share has signed agreements with multiple world class institutions that offer their expertise and knowledge to its members. Members then convey the messages to their related interested persons, who will be the ones establishing a business relationship with said institutions.
"wind2share is a public relations network, designed for referring business opportunities; a social network for sharing knowledge and expertise," said Alejandro Riquezes.
The interaction among institutions and members is vital for the success of the network. Wind2share allows its members to see and interact with all participating institutions and other members in a comfortable and effective way, enhancing the business opportunities among them.
wind2share is the result of its founders combining expertise in private and investment banking, as well as business development, technology and social media. wind2share, was founded 3 years ago in Boca Raton, Florida, and is currently present in over 20 countries.
Media contact:
Adaira.story(at)wind2share(dot)com
1-828-3335067
http://www.wind2share.com
info(at)wind2share(dot)com
# # #