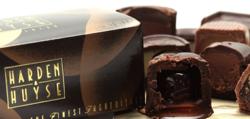 Harden and Huyse Chocolates always impress with the high quality and luxury of not only their chocolate but their presentation.
Toronto, Ontario (PRWEB) November 15, 2011
The GTA will be just a little sweeter this Christmas season. Harden & Huyse Chocolate, a Belgian chocolate maker with a big reputation from Western Canada, is now settled in the Greater Toronto Area and has recently launched a new website, http://www.GreatChocolate.com to display their world-class, handmade chocolates and to make corporate gift orders that much easier.
Some things never change. Chocolate is well received no matter what the celebration or occasion. What better gift could there be than a gift of handcrafted chocolates for the whole office to enjoy?
It's been estimated that 70 percent of adults give or receive a box of chocolates during the winter holidays. But that is no surprise to a man who has been around this magical product for most if his life. "I'll always be amazed by this products ability to offer us something sensual and to take us away – even if just for a moment", says Claude Hardenne, Managing Director of Harden Huyse Chocolates.
With its award winning packaging, Harden & Huyse Chocolates has been producing a memorable experience for its customers since 1983 – and there are many good reasons why. "Our chocolates contain the finest ingredients from around the world", say Hardenne.
Belgian-style chocolates have long ranked among the world's best, and in aspiring to that lofty mantle, Harden & Huyse, like it's peers, has not skimped on raw materials. Only the best ingredients are used. It still imports it's chocolate from Belgium, fruit puree and nougat from France, marzipan from Germany, liqueur fro Italy and caramel from Switzerland.
In Saskatoon, Saskatchewan, the family-owned-and-operated manufacturing plant follows the old methods of chocolate making, as developed over generations in Belgium. This time consuming hand-making process utilizes European equipment, and is still followed by premier Belgian firms today.
In the business world, Harden & Huyse corporate clients continue to use these decadent chocolates as a gift for both employees and clients.
As stated by an area manger from Pfizer Canada Inc, "Harden and Huyse Chocolates always impress with the high quality and luxury of not only their chocolate but their presentation. As a corporate client the turnkey service and attention to detail they provide has allowed me to delight employees and clients. The first time they receive Harden and Huyse chocolates they are willing to share. The second time they receive Harden and Huyse chocolates they are more reluctant to share something so good."
Chocolate gifts are available in boxes of two, four, eight, sixteen and thirty-two. The easiest way to order and save on volume is through the Corporate Gifts and Incentives Program.
The Master Case was designed by Harden & Huyse Chocolates as a way to offer various packages that can include multiple combinations of box sizes in one shipping order and still fit perfectly into the overly-protective shipping boxes – ensuring a safe delivery for client gift boxes. And of course, ordering Master Cases allow for discounted corporate pricing.
Hardenne and the rest of his team show an alluring excitement as they launch the new website for Harden & Huyse Chocolates. Visiting http://www.GreatChocolate.com is a great way for people to get a feel for the brand, the chocolates and the simple gift ordering process. "We even took the time to build a mobile site for busy customers who prefer to access us via mobile browsing" says Hardenne.
In anticipation of the new relationships waiting to be built in the Toronto area, Harden & Huyse Chocolates invites this Christmas season with open arms. It is another year, and one more opportunity to share the products and service that have made them into the successful and loved chocolate company they are today.
For more information on Harden & Huyse Chocolates or the corporate gift ordering process, visit http://www.greatchocolate.com
Media Contact
Claude Hardenne
905-377-9917
http://www.greatchocolate.com
# # #