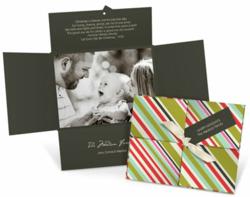 ...the recipient will be filled with awe when they open an exceptional card.
Mankato, Minnesota (PRWEB) November 14, 2011
Pear Tree Greetings has just made it easier for consumers to shop online for the most exclusive cards available, ensuring their greetings are truly special. The Golden Pears™ collection, which can be spotted throughout the Pear Tree website, features new special shapes, fun pockets, beautiful ribbon accessories and stylish panel layouts.
"The appeal of having a one-of-a-kind design sometimes trumps all other elements when card shopping," said Angela Ferrara, director of product development at Pear Tree. "That's why families, couples, graduates and even new parents are scouring the Internet, looking for the most unique greetings to send to loved ones."
"We know there's a strong desire for shoppers to have something that hasn't been seen or done before. With the holidays just around the corner, this has never been more true, as everyone sends their Christmas cards out in mass mailings."
From cards that string together to create hanging lights, to cards that showcase intricate die-cut shapes, the Golden Pears™ collection is filled with Pear Tree's top designs. Consumers can easily find these one-of-a-kind cards while shopping, as they're specially marked on the Pear Tree Greetings website with a Golden Pear™ icon.
"We wanted our customers to be able to send out a greeting and know that the recipient will be filled with awe when they open an exceptional card," Ferrara said. "The Golden Pears™ collection is filled with matchless elements that are sure to delight."
See the new Golden Pears™ collection as well as Pear Tree's full line of customizable photo Christmas cards, Christmas party invitations, and announcements, greeting cards and invitations for all occasions.
About Pear Tree Greetings
Pear Tree Greetings celebrates life's sharable moments with its unique collection of personalized, high-quality greetings and stationery made with 100-pound matte-finish card stock. With hundreds of designs for every occasion, available for purchase online and for any budget, Pear Tree inspires people to stay connected with friends and loved ones.
# # #