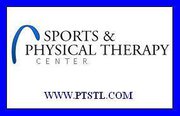 There's no need for anyone to live with back pain, when relief is readily available
EUREKA, Mo. (PRWEB) November 14, 2011
According to the Sports and Physical Therapy Center in Eureka, Missouri, back problems are one of the most common chronic pain complaints reported by the clinic's patients. The center's observation is substantiated by numerous studies. A frequently quoted Lancet article estimates that between 70% to 85% of adults will have back pain at some point in their lifetime.(1) Furthermore, a National Center for Health Statistics survey found that 1 in 4 American adults suffer from back pain at any given time – more than 28% reported low back pain within the prior three months.(2)
"These research findings probably won't come as a surprise to anyone who has ever dealt with chronic or recurring back pain. The problem is that many people have come to assume that back pain is normal, and they delay seeking treatment until the pain becomes unbearable," stated Sean Quinn, owner of the Sports and Physical Therapy Center. "However, physical therapy has the capacity to reduce, eliminate, and even prevent back pain. My team and I have found physical therapy to be extremely effective in treating patients with back pain, and numerous studies concur."
Quinn cites a review article published by the Journal of the American Academy of Orthopaedic Surgeons, which found physical therapy coupled with anti-inflammatory medication to be the most effective treatment for symptomatic lumbar degenerative disc disease, one of the most common causes of low back pain.(3) In addition, a study published in Spine examined Medicare patients with low back pain, and found that those who sought physical therapy sooner achieved better outcomes. The findings showed that individuals who received treatment within four weeks of suffering low back pain were less likely to have epidural steroid injections, lumbar surgery, or frequent return visits to their physician.(4)
Physical therapists are experts in body mechanics, with extensive training in anatomy, physiology, and various treatment modalities. They use a wide variety of techniques to help the body heal from injury, illness, pain, and reduced mobility. Because they rely exclusively on hands-on treatments and individualized strength and flexibility training programs, physical therapists can help patients avoid prescription drugs, injections, and surgery.
Upon assessing a patient's condition, the therapist will develop a customized treatment plan based on the physician's diagnosis. This may include modalities such as manual therapy, joint mobilization, neuromuscular re-education, myofascial release, and spinal and joint stabilization, to name a few. Therapeutic exercise is also commonly used to build back strength and increase flexibility. A Consumer Reports Health Ratings Center survey found that 44% of back-pain sufferers found exercise "helped a lot" in relieving their pain; and 58% wished they had done more exercises to strengthen their back in the first place.(5)
"There's no need for anyone to live with back pain, when relief is readily available," asserted Quinn. "Physical therapists can identify and treat the underlying cause of pain, and eliminate it for good. But it's important for people to seek treatment at the first sign of pain, because conditions almost always worsen when left untreated. The good news is that most health insurance plans cover physical therapy when patients obtain a physical therapy prescription from their doctor."
Quinn and his team at the Sports and Physical Therapy Center provide a wide range of services at their state-of-the-art clinic in Eureka, which is frequented by patients throughout St. Louis County. The center's highly skilled physical therapists have earned a reputation for helping back-pain sufferers achieve successful physical therapy results. Quinn welcomes prospective patients to tour the facility or call with any questions they may have.
To learn more about the Sports and Physical Therapy Center in Eureka, visit http://www.ptstl.com or call 636-938-4065.
About the Sports and Physical Therapy Center
Located in Eureka, Missouri, the Sports and Physical Therapy Center was founded in 2004 and serves patients in the greater St. Louis area. Owner Sean Quinn is a licensed Physical Therapist in Missouri as well as a Certified Strength and Conditioning Specialist. He holds a master's degree in Physical Therapy from St. Louis University, and specializes in manual therapy techniques, orthopedics and sports medicine. Quinn worked in outpatient physical therapy clinics for several years before establishing his own practice. Today, the center employs a team of highly skilled physical therapists and a personal trainer, as well as dedicated finance, customer care and administrative staff. For more information, visit http://www.ptstl.com or call 636-938-4065.
(1) Andersson, Gunnar BJ. "Epidemiological features of low back pain." Lancet, August 14, 1999; 354: 581–85. http://www.societyns.org/runn/2008/andersson_pain.pdf
(2) National Center for Health Statistics. "Table 52." Health, United States, 2010. Hyattsville, MD, 2011; 213. http://www.cdc.gov/nchs/data/hus/hus10.pdf
(3) Madigan, Luke, et al. "Management of Symptomatic Lumbar Degenerative Disk Disease." Journal of the American Academy of Orthopaedic Surgeons. February 2009: 102-111. http://www.jaaos.org/content/17/2/102.abstract
(4) Gellhorn, Alfred Campbell, MD, et al. "Management Patterns in Acute Low Back Pain: The Role of Physical Therapy." Spine (Published Ahead-of-Print). November 19, 2010. journals.lww.com/spinejournal/Abstract/publishahead/Management_Patterns_in_Acute_Low_Back_Pain__The.99251.aspx
(5) Consumer Reports Health Ratings Center. "Exercise therapies: Back-pain sufferers wish they had worked out more." ConsumerReports.org, April 2009. http://www.consumerreports.org/health/conditions-and-treatments/back-pain/exercise-therapies/exercise-therapies.htm
###