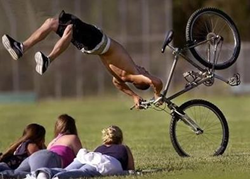 'Men who show some creativity and put some effort into seduction get much farther in the dating game,' Clooney says.
New York, NY (PRWEB) November 15, 2011
Dating Guru Landon Clooney, an expert in the pickup artist world, says that impressing women is easier than most men think if they know what to say and do.
Most men make the mistake of thinking that women are impressed by men who drive fancy cars, make lots of money, and have movie star looks. Not true, says dating guru Landon Clooney in a new report.
Women are most attracted to men who make them feel good about themselves, Clooney says on his website http://www.pickup-artist.com. His popular dating website gives men numerous tips on how to impress a girl, along with the key to how to attract women in general.
The first tip Clooney shares in his new report on how to impress girls and women, is to not try so hard.
"It is important for men to adopt a nonchalant attitude around women," he says. "Men don't want to have their desperate light on or look like they are trying too hard. Men need to cultivate an aura of effortlessness. Even if they practiced what they were going to say 100 times in front of the mirror that morning, they need to make it appear to the woman that they are natural and aren't trying to impress or seduce her in any way."
Another sure fire tip to impress girls and become a pro at attracting women is for men to plan something for a meeting that doesn't take money, but does take imagination and creativity.
"That works much better and is more effective in capturing a woman's attention and interest," Clooney says.
For instance, he says in his report, a man who packs a picnic lunch of delicacies, such as fine wine, caviar, cheese, crackers, and grapes and spread a blanket out on the beach under a full moon is going to impress a woman more than a guy who just whips out his credit card and pays for a fancy meal at a new restaurant.
Men who show some creativity and put some effort into seduction get much farther in the dating game, Clooney says. In fact, men who follow his tips to meet girls find it far easier than other men.
These are just a few concepts that Clooney teaches the thousands of men who have turned to him for help not only in meeting women to date, but in finding long-term partners, which makes the idea that pick up artists are dishonorable laughable to him.
His Pickup Artist website is continually updated with new information that will help men find success in the dating world. Find out more at: http://www.pickup-artist.com/.