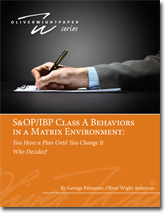 New London, NH (PRWEB) November 16, 2011
George E. Palmatier, a recognized thought leader on Sales and Operations Planning (S&OP) and Integrated Business Planning (IBP), has authored a white paper on operating S&OP and IBP in a matrix environment.
The white paper is titled S&OP/IBP Class A Behaviors in a Matrix Environment: You Have a Plan Until You Change It. Who Decides? It highlights three key principles and six key behaviors to support the principles in a matrix environment.
Palmatier has co-authored three books, including Enterprise Sales and Operations Planning: Synchronizing Demand, Supply and Resources for Peak Performance. In his latest white paper, Palmatier draws upon more than thirty years of experience in educating and advising executives on how to operate their businesses with S&OP/IBP.
The white paper covers critical topics, including the decision making interactions between global functional leaders and leaders of local functions. The white paper also provides guidance on the behaviors needed to ensure that the business plans are aligned and re-aligned as needed and how to operate with one planning and control system.
The white paper also covers how to reach consensus on changes to the plan, and the interactions required between the global functional leader and the leadership of the operating business unit.
A copy of the white paper is available http://www.oliverwight-americas.com/new_white_papers/ibp-sop-matrix-environment-white-paper.htm
About Oliver Wight Americas Inc.
Oliver Wight Americas, Inc. has been both a thought leader and hands-on practitioner for over 40 years. As a global business management consulting and education firm, the company specializes in helping organizations work smarter, faster, and better than their competitors. Its principals are seasoned professionals who have real-world manufacturing experience and transfer this knowledge throughout an organization, providing tools to help organizations internalize that knowledge and achieve a competitive advantage in the marketplace. The largest world-wide consultancy of its type, Oliver Wight has offices throughout Europe, North and South America, and the Asia/Pacific Region. For more information, please visit http://www.OliverWight-Americas.com.
###