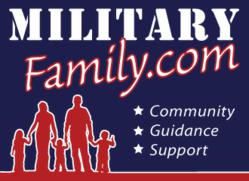 Woodbury, NY (PRWEB) November 29, 2011
Within the military community there is a genuine need for a single resource that addresses issues that affect both military members and their families. In response, MCA has developed a unique, new type of military family website: MilitaryFamily.com.
To begin the process, MCA assembled a prominent advisory board of military family experts and mental health professionals. The board assisted MCA with the initial planning of the site, and will continue to provide guidance as MilitaryFamily.com grows.
The new military community offers a blend of articles by renowned military writers on: Deployment; Parenting in the Military; Education and Careers; PTSD and Suicide Prevention; Health & Wellness; Finance; Veterans Issues and more. The site offers:

Daily Articles by Established Military Writers
Free Worksheet Downloads for Both Adults & Kids
Free Apps Including a New Military Suicide Prevention App
Community Forums Discussing Deployment, Careers, Veterans & More
Videos Related to Military Family Issues
Timely News & Discussion Related to Military Life
It is the goal of MilitaryFamily.com to support the military community for years to come.
ABOUT
MilitaryFamily.com is a Non-Profit community Web site providing support and guidance for military members and their families. The site is sponsored by Military Community Awareness, a provider of innovative products for family support and service centers, family advocacy programs & more to assist the military community.
# # #