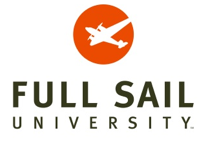 Winter Park, FL (PRWEB) November 15, 2011
Full Sail University proudly welcomed Film and Entertainment Business graduate Nikki Willson back to campus for a series of entertainment industry seminars focused on independent film and reality television. Project Runway Season 9 finalist Joshua McKinley joined Willson for a discussion with students regarding reality television.
After graduating from Full Sail University in 2010, Willson co-produced an independent film titled Subprime, which was featured at this year's Orlando Film Festival. Aside from projects related to her own production company, Willson's accomplishments include work for Bunim-Murray Productions on hit reality television shows including: Keeping up with the Kardashians, The Real World, Bad Girls Club, and Project Runway.
During her visit to campus, Willson provided two seminars for current students addressing topics such as Producing Independent Film and Working in Reality TV, which she co-hosted with designer Joshua McKinley. McKinley hails from New York as a Fashion Institute of Technology graduate with training in Florence, Italy and is best known for his participation in Project Runway Season 9.
About Full Sail University:
Full Sail University is an award-winning educational leader for those pursuing careers in the entertainment and media industry. Founded in 1979, Full Sail has been recognized as one of the Top Five Game Degree Programs by Electronic Gaming Monthly, one of the Best Music Programs by Rolling Stone Magazine, and one of the Best Film Programs by UNleashed Magazine. In 2011, Full Sail received the "21st Century Best Practices in Distance Learning Award" from the United States Distance Learning Association, was named the "School/College of the Year" by the Florida Association of Postsecondary Schools and Colleges, and was recognized as one of the Top 100 Social Media Colleges by Studentadvisor.com.
Full Sail offers on-campus and online Master's, Bachelor's, and Associate's degree programs in areas related to animation, art, business, education, graphic design, film, marketing, web development, music, recording arts, sports, and video games. Full Sail graduate credits include work on OSCAR®, Emmy®, GRAMMY®, ADDY®, MTV Video Music Award, and Spike Video Game Award nominated and winning projects.
http://www.fullsail.edu
http://www.twitter.com/fullsail
http://www.facebook.com/fullsailuniversity
###