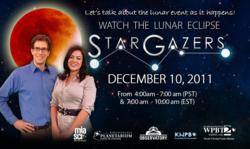 "The WPBT2's Star Gazers Live Event offers the opportunity for everyone to enjoy and discuss the entire lunar eclipse regardless of their location..."- Host Marlene Hidalgo
Miami, Fl. (PRWEB) November 16, 2011
WPBT2's Star Gazers will host a live lunar eclipse webcast from Reno, Nevada on Saturday, December 10 from 4:00 a.m. – 7:00 a.m. (PST) and 7:00 a.m. - 10:00 a.m. (EST). The nation will be able to see the eclipse and join the conversation on http://www.wpbt2.org/lunareclipse.
While most of North American and Hawaii viewers may be able to see the moonset still in eclipse, viewers on the East Coast and in South America will not be able to see the eclipse. Those along the west coast of the United States and Canada will see the beginning of totality just as the moon disappears below the western horizon.
"The WPBT2's Star Gazers Live Event offers the opportunity for everyone to enjoy and discuss the entire lunar eclipse regardless of their location. I am so thrilled that I will be onsite to witness and cover the event from Reno, Nevada. I look forward to being able to share this experience with viewers, especially those in the Midwest and on the east coast, who will not be able to see the eclipse in it's entirety," stated Host Marlene Hildago.
Star Gazers, a production of WPBT2, South Florida Public Media, is a new astronomy series built on the legacy of Jack Horkheimer's award-winning series.
Star Gazers hosts Dean Regas, the outreach astronomer for the Cincinnati Observatory and Marlene Hidalgo, a science educator who represents the Miami Science Museum, will provide on-camera commentary and answer questions from WPBT2's online audience as the lunar eclipse unfolds. Joining Dean and Marlene during the webcast will be Bill Dishong, series producer of Star Gazers and Star Gazer with Jack Horkheimer; and Dan Ruby, Associate Director of the Fleischmann Planetarium in Reno, Nevada.
"We are excited to give the nation the opportunity to see such a wonderful event unfold, and we are fortunate to have great experts explain this phenomenon as well as answer all audience questions. This December Lunar Eclipse webcast is also the first of three Star Gazers special events. In the works are the annular solar eclipse in May 2012 followed by the Transit of Venus in June 2012. As the only weekly television series devoted to naked eye astronomy, our Star Gazers team is committed to sharing the excitement of our night skies with everyone," said Jack Kelly, producer of Star Gazers.
So, no matter their location, viewers can watch the lunar eclipse on December 10th live on http://www.wpbt2.org/lunareclipse
About the Event Partners:
Star Gazers Series - Produced by South Florida Public Media, WPBT2., the series is the world's only weekly television series on naked eye astronomy. Each weekly episode features selected objects for naked eye viewing during the following week. Star Gazers hosts include: James Albury, coordinator of the Kika Silva Pla Planetarium; Dean Regas, outreach astronomer for the Cincinnati Observatory and Marlene Hidalgo, a science educator from the Miami Science Museum.
Cincinnati Observatory - The Cincinnati Observatory is a fully functioning 19th century observatory used daily by the public and amateur astronomers, civic organizations, teachers and students, history buffs and science mavens. The main telescopes are an 11 inch Merz and Mahler refractor purchased in 1842 and a 16 inch Alvan Clark refractor dating to 1904. The historic buildings are recognized as a National Historic Landmark and the grounds provide a serene, park-like setting while still being centrally located in the city of Cincinnati."
Fleischmann Planetarium – It is part of the University of Nevada, Reno and Extended Studies. The Planetarium offers public star shows and large-format films showing daily in their dome theater, and public star observing courtesy of the Astronomical Society of Nevada. It is one of the first of a handful of planetariums around the world to utilize the Spitz SciDome digital projector, a high-resolution, state-of-the-art immersive visualization tool that produces extraordinarily bright and colorful 3-D images.
Kika Silva Pla Planetarium- Since 2006, the Kika Silva Pla Planetarium has been dedicated to enriching the learning environment of Santa Fe College students and our community. We employ the latest educationally innovative technology in a unique immersive-learning environment for Santa Fe and University of Florida students, public and private school children, community groups, and the public of North Central Florida.
KNPB Public Broadcasting – KNPB continues to strive each day to bring the best content possible to some 800,000 people in northern Nevada and eastern California. Three KNPB digital channels deliver 24/7 programming services. KNPB provides PBS national programming and high quality locally produced programming in standard and high definition. KNPB Create provides "how-to" lifestyle programing, and KNPB Vme provides public television programs in Spanish. The KNPB website at http://www.knpb.org provides 24/7 access to KNPB including our on-demand video portal at watch.knpb.org.
Miami Science Museum - Miami Science Museum aims to make a difference in people's lives by inspiring them to appreciate the impact that science and technology can have on every facet of our world. For over 60 years, Miami Science Museum's award-winning educational programs, family-focused exhibits, historic planetarium, and rehabilitative Wildlife Center and Clinic have enriched locals and tourists alike. In 2014, the legacy continues with the Patricia and Phillip Frost Museum of Science, a new world-class, state-of-the-art facility designed by Grimshaw Architects in the heart of downtown Miami. Miami Science Museum is accredited by the American Association of Museums and is an affiliate of the Smithsonian Institution. For more information about the current Museum or our future home, the Patricia and Phillip Frost Museum of Science, visit http://www.miamisci.org or call (305) 646-4200.
# # #