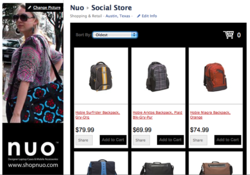 "Mobile shopping provides an unmet level of convenience and provides retailers with one-on-one relationship-building opportunities that can create customers for life." - Jason Woosley, Vice President of Product Development at Volusion
Austin, TX (PRWEB) November 16, 2011
Nuo Tech, LLC, designers of technology cases for today's fashionistas and mobile professionals, announced today the company has launched a new social store on Facebook that provides the company with highly-targeted access to tech-savvy customers. Nuo is just one of the thousands of retailers who will be taking advantage of mobile shopping as more than 90 percent of retail companies1 are expected to have a mobile strategy in place for the 2011 holiday retail season.
"This holiday shopping season, Santa will be using an iPad or another mobile device as mobile shopping provides convenience without the crowds and hassle of traditional shopping," said Nuo Vice President and Founder Ty Rarick, "Nuo expects to increase our sales by 15-20 percent with our new social store, allowing us to target buyers with exclusive custom deals and incentives."
The new social store will target college students at launch and expand to other targeted segments overtime. Customers gain access to the store by "liking" Nuo on Facebook.
"Retailers that don't have set mobile and social strategies will get left behind this holiday season," said Jason Woosley, Vice President of Product Development at Volusion. "Mobile shopping provides an unmet level of convenience and provides retailers with one-on-one relationship-building opportunities that can create customers for life. And with social shopping on the rise, having a presence on Facebook is critical for merchants."
"My friends and I expect to do all of our shopping online this year as the convenience just can't be beat," said Jacqulyn Estrada, nursing student at the University of Texas at Austin. "We are usually studying for exams and it is nice to take a break, buy a gift and cross someone off of my list."
As an additional online incentive, Nuo will be offering a "Deal of the Day" weekly and free shipping in November and December. The "Deal of the Day" will be an exclusive discount offer of as much as 40 to 60 percent off of retail.
The Nuo Social Store is available at:
http://www.facebook.com/nuoT3ch?sk=app_211311762253380
About NUO
NUO designs industry leading carrying cases and accessories for laptops, tablets, travel, luggage and many other mobile technology products. We are committed to offering innovative and highly functional product solutions with a focus on fashion and style conscious consumers. Our bags range from classic messengers and protective sleeves to women's totes and exclusive designer brands that stand out in crowd.
Drawing inspiration from fashion forward and tech savvy consumers as well as lifestyle and cultural trends, Nuo's passion is creating trendsetting products that are durable, simple, smart, and sophisticated. From our Eco-Friendly Nuo Collection to the Dao Chloe Dao for Nuo Collection from Project Runway Winner Chloe Dao for fashionista's on the go, we have the right bag for you. Show your colors, show your style with NUO Designer Laptop Bags and Mobile Accessories. Learn more and shop online at http://www.shopnuo.com.
About Volusion
Volusion is the leader in ecommerce solutions for online businesses. For more than a decade, tens of thousands of companies from small businesses to industry leaders like 3M, US Open, Ansel Adams, Nalgene, Oregon Ducks and Motorola have used Volusion to successfully sell online. For more information about Volusion, please visit http://www.volusion.com.
(1) http://www.forrester.com/ER/Press/Release/0,1769,1372,00.html
###