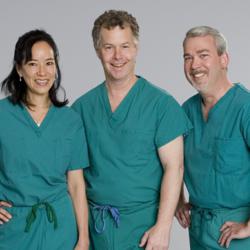 Obesity as a growing health epidemic in the United States, and there is a need for additional effective treatments. Our preliminary results are very exciting.
Everett, WA (PRWEB) November 16, 2011
Drs. Kevin Montgomery, Robert Michaelson, and Alana Chock, all Doctors of Weight Loss experts at Northwest Weight Loss Surgery, announced today that they are enrolling patients into a clinical trial for a new weight loss surgery procedure. This new procedure, the Laparoscopic Greater Curvature Plication, is also known as gastric plication, or just "plication". Candidates include adults with obesity who have failed more conservative weight reduction alternatives such as diet, exercise and pharmacotherapy, and have a Body Mass Index (BMI) greater than 35.
Unlike the Gastric Bypass and Sleeve Gastrectomy, the Laparoscopic Greater Curvature Plication surgery does not involve removal of gastric tissue or permanent surgical alteration of the bowel. During plication surgery, the surgeon frees up the greater curve of the stomach (the round part) and folds the stomach inward. Two rows of folds are created using sutures to significantly reduce the volume of the stomach, restricting how much a person can eat at one sitting. The stomach is not removed, no adjustments are needed, and no devices are implanted into your body. Although the procedure is investigational, early tests are showing positive results. Dr. Robert Michaelson said, "We're excited with the preliminary results. We are seeing 70% excess weight loss in some of our first patients, and are looking forward to watching these patients' progress and collecting longer term data."
The need for surgical weight loss options continues to grow. "Obesity is a growing health epidemic in the United States", Dr. Chock said, "and there is a need for additional effective treatments." Obesity is a leading cause of preventable death in the United States, second only to smoking. It has a known correlation to life-threatening comorbid conditions such as heart disease, stroke, type two diabetes, sleep apnea and even premature death; obesity is a disease that requires treatment. "This is a promising investigational procedure" Dr. Chock added. "Weight loss surgery can be life changing and life saving. We're always pleased to be able to add other options for our patients, and the plication has the potential to be a safe, effective alternative or addition to the Lap-Band."
The surgeons at Northwest Weight Loss Surgery serve as experts with Doctors of Weight Loss, and contribute to educating the public and other healthcare professionals about obesity and bariatric surgery options. For more information about the plication procedure, or enrolling in the trial, click here.
About Northwest Weight Loss Surgery
Northwest Weight Loss Surgery (NWWLS) is a bariatric Center of Excellence that serves Washington state as well as patients who travel from Canada and other regions of the country. The surgeons at NWWLS are leaders in their field who have performed over 4,500 bariatric surgeries and has been focused exclusively on bariatric surgery for a decade.
About Doctors of Weight Loss
Co-founded by Emma Squillace and Dr. Emma Patterson, doctorsofweightloss.com is a resource for people who want to educate themselves about obesity and weight loss surgery. Doctors of Weight Loss brings together expert bariatric surgeons from around the country to provide information for patients, family members, and healthcare professionals.
###