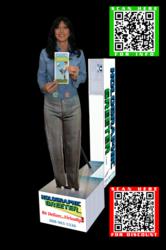 Everyone recognizes the potential impact and value this program offers and our pricing structure makes this a simple way to meet their marketing objectives
Charlotte, NC (PRWEB) November 16, 2011
Marketing Ad Group has taken the Holographic Greeter/Concierge to a new level by incorporating Advanced Next Generation QR Codes into the Greeter's message, creating a total immersion experience for Advertisers and Patrons.
This exciting information, branding and promotional messaging medium displays a holographic image projected onto a life-sized cut-out that is so unique and lifelike, Shoppers can't help but stop and stare. The Holographic Greeter can be positioned virtually anywhere and is a high-tech communications platform that serves up in-store information and personal greetings in a decidedly unique fashion.
Because the Holographic Greeter is so animated and compelling, Advertisers can deliver their message or introduce new products to a receptive audience without intimidation. The inclusion of Advanced Next Generation QR Codes in the message allows smart phone users to further engage themselves in the Advertiser's message. By using simple color coded QR Codes, the Greeter can convey any message… from simple contact information, reservations or directions, to in-depth web based interaction on it's GREEN colored INFO QR Codes. The red colored DISCOUNT QR Codes offer up discounts or special offers, further enticing patrons.
Bill Barrett, Product Development Manager with Marketing Ad Group, says "we are offering the Holographic Greeter to companies ranging from Hotels to Doctors and the reception has been incredible. Everyone recognizes the potential impact and value this program offers and our pricing structure makes this a simple and affordable way to meet their marketing objectives."
Marketing Ad Group offers a Co-Op Program for the Holographic Greeter that offers participating Retailers an opportunity to turn this captivating promotional and branding concept into a revenue producing vehicle for their business while also benefiting from the increased exposure and sales lift provided by this captivating device.
For more information, contact Bill Barrett at 888-965-5336, or visit http://www.holographicgreeter.com
# # #