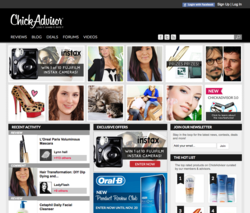 "We are witnessing a major shift in Consumer habits as they research products, especially leading up to the holiday season" Alex de Bold, Co-Founder
(PRWEB) November 15, 2011
In anticipation of the 2011 holiday season ChickAdvisor has released version 3.0 of its website, combining new functionality with a fresh look. In response to industry demand for greater engagement between brands and consumers ChickAdvisor has extended its recommendation platform to include social gamification. Social gamification recognizes contributions to ChickAdvisor in categories like Beauty and Mom & Baby as consumers review the products and stores they visit every day.
"We are witnessing a major shift in Consumer habits as they research products, especially leading up to the holiday season," says co-founder Alex de Bold. "Brand managers recognize that as traditional banner ad click-through rates continue to plummet, meaningful engagement is the new key metric."
ChickAdvisor 3.0 is Canada's first turnkey Social Recommendation Platform that includes a fully integrated gamification framework (points & badges) to allow even deeper Consumer/Brand engagement via web & mobile. ChickAdvisor's gamification platform will be deployed to launch some of Canada's most innovative CPG programs in 2012.
ChickAdvisor has long been an innovator in this space. In 2009, ChickAdvisor was named "Hottest New Digital Kid On The Block" by the CNMA because of our work in developing Canada's first location-based shopping events (the ShopCrawl) and early work in launching social media programs on behalf of Tier 1 brands.
ChickAdvisor was founded by husband and wife team Alex and Ali de Bold in 2006. Since that time, nearly 4.5 million users have visited the site and generated thousands of authentic product and service reviews and is a trusted partner for many of Canada's top brands delivering integrated social media programs.
For more information, please contact
Alex de Bold, Co-Founder, +1 (647) 776-6316
###