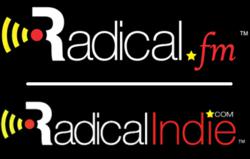 ...this influx of capital will insure the rollout of our full service with a revised HTML5 player on schedule.
Los Angeles, CA (PRWEB) November 15, 2011
Radical.FM, Inc. (radical.fm) announced today that it has secured an undisclosed amount of second round financing from a group of private investors. The over-subscribed funding round closed last week. Monies will be used to complete development of a new HTML5 Player for its streaming music services Radical.FM and Radical Indie, for launch in early 2012. Mobile apps and the innovative DeeJay™ functionality will also be finished. Radical combines passive Stations (like Pandora™), active Playlists (like Spotify™ & Rhapsody™), and social RadCast™ (like Turntable.FM™). Patent-pending RadCast makes every listener the owner of a broadcast radio station and permits personal music streams to be shared in real-time. The DeeJay function will allow a user to speak to all who are listening to their RadCasts. To sign up for the free public beta, go to Radical.FM.
"I am personally flattered that despite entrenched competition and a faltering economy the offering was over-subscribed," said Radical Founder and CEO, Thomas McAlevey. "The Company's owners appreciate the game-changing potential of Radical. Our Beta phase has given tremendous feedback, and this influx of capital will insure the rollout of our full service with a revised HTML5 player on schedule."
About Radical.FM
Four-month-old Radical.FM presents a complete music delivery service, with unique features and controls. My Stations™ was inspired by audio mixing boards and terrestrial radio programming practices. Unlike other services, Radical Stations do not "guess" what listeners might like based on song choices and subjective computer parameters. Instead, Radical divides its song library into Genres and allows listeners to blend as many as desired and assign each a value relative to the others. Blending can be changed instantaneously; creating an endless stream of precisely the kind of music the listener wants to hear at any given moment.
RadCast makes every user the owner of a broadcast radio station, complete with legal access to over sixteen million songs. Listeners can share their music streams in real time with any number of other listeners. They will soon be able to Deejay their own music streams as well.
About Radical Indie
Indie is short for Independent. Ranging from individuals to major acts like Nine Inch Nails, Indie Artists are musicians not signed with the major labels or their subsidiaries. Often non-conformist, always creative, theirs is a world of music not optimally suited to mainstream services like Radical.FM or Pandora.
Offered free of charge to both artists and listeners, the Radical Indie Player will offer full, unlimited play-on-demand functionality. They can create personal playlists choosing from all the music that independent musicians and bands have uploaded into the service. RadCast makes every musician the owner of a broadcast radio station, complete with independent content. Musicians will be able to have their fans listen to their music in real time. The DeeJay function will allow hosts to speak live to their audience, where they can discuss not only their music, but also conduct interviews, promote tours, etc.
Besides being able to upload their music today in advance of Radical Indie's launch, artists may include related images, lyrics, links to purchase music and merchandise, etc.
About Radical.FM, Inc.
Radical.FM is an independently owned and operated webcasting facility. Radical.FM is a comprehensive user tailored music radio station (like Pandora™ and Slacker™) with on-demand playlist functionality (like Rhapsody™ and Spotify™), that adds social networking and personal broadcasting capabilities (including RadCasting and the ability to DeeJay), in one integrated service. More information about the company can be found at Radical.FM.
RadCast and DeeJay are trademarks of Radical.FM, Inc. Other trademarks are the property of their respective owners.
###