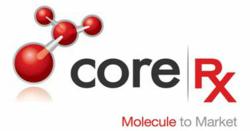 We are delighted to be the choice for three esential areas of the pharma industry: reliability, compliance and productivity.
Tampa, FL (PRWEB) November 15, 2011
Bringing a new pharmaceutical product to market is a very time consuming process, and having reliable and effective contract organizations to work with helps streamline that process. The Life Science Leader CMO Leadership awards are designed to honor top performers based on responses to a survey of thousands of industry executives, conducted by Nice Insights, and better serve pharmaceutical and biopharmaceutical executives in their CMO vetting process.
The 2011 CMO Leadership Awards were announced at the AAPS in Washington, DC on October 26th, 2011. CoreRx, Inc was recognized as a category leader for solids, semi-solids and liquids in reliability, regulatory and productivity.
In accepting the award, Dr. Todd Daviau said, "We are delighted and honored to receive this recognition award as CoreRx once again establishes itself as the solution oriented CMO of choice for the pharma industry. Reliability, compliance and productivity are three essential areas of our business, which are fundamental to our customers who trust in CoreRx to meet their formulation and manufacturing needs. We take great pride in being able to offer integrated services."
Companies are recognized in this prestigious list when they achieve top 25th percentile perception scores in Quality, Accessibility, Productivity, Regulatory, and Reliability in the products of solids, semi-solids and liquids.
###