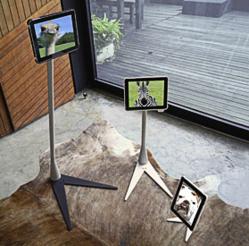 We knew that a 'one size fits all' approach would not work with Perch. The iPad has freed the user to take their computing most anywhere, and that's reflected with the three models of Perch.
Sunnyvale, CA (PRWEB) November 15, 2011
IPEVO, Inc., a designer and maker of products for emerging Internet-driven behaviors, has announced the release of Perch, a stand for Apple's iPad tablet computer. The IPEVO Store (http://www.ipevo.com) will serve as the exclusive retailer for the product, which will be available for purchase starting immediately.
Perch is available in three different sizes according to height — Small, Medium, and Large. For each size, users can choose from either iPad or iPad 2, and black or white. Products range in price — $49.95 for the Small stand, $79.95 for the Medium stand, and $129.00 for the Large stand.
Stands are named after the different intended behaviors and environments for which they are designed. The Small (S), or Desktop model, is compact enough to fit on tabletops, kitchen countertops, bar counters, reception desks, and similar. The Desktop model can also be used along with a wireless keyboard for a laptop-style setup. The Medium (M), or Sofa model, is intended for sitting users, whether on a sofa, chair, or bed. The Large (L), or Podium model, is tall enough for standing users, and can be used as an "iPodium" for presentations and speeches.
Perch is created with a simple, modern style intended to visually complement the iPad. The base is made from steel to provide a sturdy foundation and is designed with flat, V-shaped feet. These feet can be slipped under sofa and beds or positioned at the corners of furniture to bring the iPad closer to the user. The pole (or leg) of the stand is constructed with a forged aluminum alloy which lends both lightweight portability and durability. And the iPad holder is made from a double-injected, heavy-duty plastic and soft silicon for device protection and stability. The iPad is installed via a gentle push into the ribbed lip of the holder, and may be easily removed with a special grip tab. A triangular cutout on the back of the holder further facilitates removal, such that the user may grasp the back of the iPad. Perch's design mounts the iPad in an ideal position for a wide range of user interactions.
Royce Hong, CEO and big head of design of IPEVO, commented on the thinking behind Perch: "We knew that a 'one size fits all' approach would not work with Perch. The iPad has freed the user to take their computing most anywhere, and that's reflected with the three models of Perch. The S model is designed for tabletops, whether that means a business meeting, a one-on-one e-learning session, following a recipe in the kitchen, or watching a video on the coffee table. The M model is ideal for seated users in the living room, and the L model, in addition to its podium function, is great for interacting with iPads while standing up — whether it is showrooms, museums, art galleries, or anyplace else a multimedia signboard is desired."
For all three sizes, a special dual-axis hinge allows the user to customize the viewing experience by changing tilt (for viewing angle) and rotation (for orientation). This is done with a twist of the hands, and no knobs or levers are required.
The Perch family of stands for iPad and iPad 2 will be available through IPEVO's online store at http://www.ipevo.com.
About IPEVO
IPEVO designs and sells innovative products to enrich today's connected lifestyle. We recognize the immense potential of new technologies to help people create, teach, learn, and inspire. From classroom to living room to conference room, IPEVO is dedicated to making technology more available, accessible, and affordable for all.
For more information, visit http://www.ipevo.com.
# # #