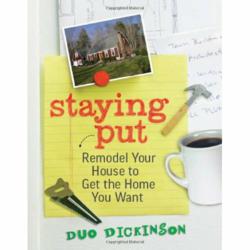 "Could there be a more perfect book for this Amercan moment? Figuring out how to hunker down happily is the new name of the game, and I know of no more expert, charming guide than Duo Dickinson.

-- KURT ANDERSEN, host of public radio's Studio 360
Newtown, Conn. (PRWEB) November 14, 2011
The American dream of owning a home and then buying or building a bigger and better one is no longer viable. Millions of homeowners stymied by the housing market and economy have embraced remodeling instead.
The Taunton Press is pleased to announce the most enterprising remodeling book to date, and one that is geared specifically to our times.
Home design meets personal finance in Duo Dickinson's Staying Put: Remodel Your House to Get the Home You Want (The Taunton Press, November 15, 2011).
With passion, irreverence and a much-needed sense of humor, Dickinson shares his tips for saving money without sacrificing design. He offers up cost-saving options and smart solutions to give readers tangible hope for getting the home they want from the home they have.
Staying Put features 60+ projects, most of which have been completed since the housing recession hit. Dickinson's down-to-earth humor combined with hundreds of before & after photos show readers how to design on a budget while dramatically transforming an existing home.
Residential architect Duo Dickinson, widely recognized as the maverick within the profession, has spent 30 years designing or renovating more than 600 homes across North America. This is his seventh book on residential design.
Remodeling – moves you can make without moving. A new house isn't always an option, but Staying Put offers hope by providing workable solutions for the house you do have. And it helps you avoid the costly pitfalls that come with renovating.
Innovative ideas that don't break the bank. Architect-author Duo Dickinson believes in making a home as beautiful as possible – but doing it as cheaply as possible. Taking your cues from him, you'll learn how to save money without sacrificing good design.
Change the things that make you crazy! Learn simple strategies for working with what you already have. Get more living space by opening up your floor plan. Stash your stuff in newly found storage spaces. Solve your biggest headaches with small but thoughtful makeovers. Now staying put doesn't mean making do.
Your house can be your dream home – really! Staying Put offers so many ideas for upgrading homes for today's lifestyle, you're certain to find budget-wise solutions for improving your own home. Now you really can love where you live.
Publish date: November 14, 2011
Publisher: The Taunton Press
ISBN: 978-1-60085-364-7
Price: $24.95
Pages: 272
Photos: 340 including 100 before photos
Drawings: 50
Cover: Paperback
Trim Size: 7 x 9
Web site: http://www.stayingput.com
About the author: Architect Duo Dickinson truly knows the ins and outs of home remodeling. Recognized as a maverick within the profession he's spent 30 years trying to reform, Dickinson is a successful author of seven books on residential design, including The House You Build. He has designed or renovated more than 600 homes across the country. The New York Times captured his design philosophy as: "Design it small, make it as beautiful as possible, and practice every trick in the book to keep it as cheap as possible."
###