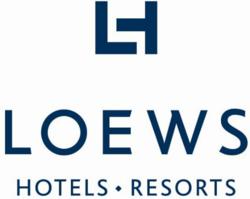 "Our chefs have left their creative mark on the annual turkey feast with sandwiches to remember whatever your holiday plans." - Constantine Dimas, VP of Food and Beverage
New York, NY (PRWEB) November 15, 2011
The traditional Thanksgiving feast goes compact. Innovative turkey sandwich recipes from Loews Hotels chefs make your delicious leftovers handheld. These locally inspired offerings are available from November 21-27 at select hotels across the country.
"Thanksgiving travel is always an adventure, and we thought we'd make leftovers travel friendly," said Constantine Dimas, Vice President of Food and Beverage for Loews Hotels. "Our chefs have left their creative mark on the annual turkey feast with sandwiches to remember whatever your holiday plans."
Photos and detailed recipes for each sandwich will be available throughout November on the Loews Hotels' Facebook page. Some highlights include:
At Loews Lake Las Vegas, Master Sushi Chef Osamu "Fuji" Fujita has put an Asian spin on Thanksgiving with the Turkey Breast Hand Roll featuring three rolls, including the "Green Soy Paper Wrap" which includes Kaiware sprouts, tomato, turkey breast and sushi rice. The three rolls are served with a dipping sauce featuring Sriricha, mayonnaise and cayenne pepper.
At Loews Miami Beach Hotel, enjoy Thanksgiving with Caribbean flair at Preston's Brasserie with Chef Delaire's Turkey Sandwich 'Cuban Style'. Layered with ham and Swiss on a baguette with a side of yucca fritta, it's perfect with a signature Basil Bash cocktail with vodka and seasonally appropriate cranberry juice.
At the Loews Regency Hotel, Chef Crocker has created a trio of sliders on a variety of artisan bread, including cranberry walnut bread, pecan raisin pull-apart bread and Parker House brioche rolls. These sandwiches combine roast turkey with stuffing, sweet potato, gravy and stone-ground mustard-cranberry mayonnaise.
Go Home for the Holidays and save 20% at Loews Hotels with rates starting at $104. For more information or to arrange your stay, please call 1-800-23-LOEWS or visit http://www.loewshotels.com.
About Loews Hotels
Headquartered in New York City, Loews Hotels owns and/or operates 18 hotels and resorts in the U.S. and Canada, including the newest 414-room Loews Atlanta Hotel opened April 1, 2010. Located in major city centers and resort destinations from coast to coast, the Loews portfolio features one-of-a-kind properties that go beyond Four Diamond standards to delight guests with a supremely comfortable, uniquely local and vibrant travel experience. Loews boasts some of the industry's most innovative and successful travel programs, including Loews Loves Kids for families and Loews Loves Pets for discerning animals on the road. For reservations or more information on Loews Hotels, call 1-800-23-LOEWS or visit http://www.loewshotels.com.
Follow Loews Hotels on Twitter: http://www.twitter.com/loews_hotels
Like Loews Hotels on Facebook: http://www.facebook.com/LoewsHotels
Watch Loews Hotels on YouTube: http://www.youtube.com/LoewsHotels
Contact:
Loews Hotels
Lark-Marie Anton
(212) 521-2779
lanton(at)loewshotels(dot)com
Hawkins International Public Relations
Emily Easter
(212) 255-6541
emily(at)hawkpr(dot)com
###