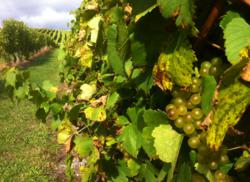 2011 is a monumental year as we have that rare combination of a huge harvest with very high quality fruit, which should provide consumers some of the best wines in recent history coming from Northern Michigan.
~Paul Hamelin of Verterra Winery
Leelanau Peninsula, MI (PRWEB) November 15, 2011
For the wineries of Northern Michigan's Leelanau Peninsula Vintner's Association, autumn is a time when the fruits of a year's worth of hard labor begin to be weighed, counted and judged. While exact tonnage for the 2011 harvest is not available, the 19 wineries of the Leelanau Peninsula Vintners Association are reporting an excellent crop. Karel Bush of the Michigan Wine & Grape Council notes that the Leelanau Peninsula isn't alone, as vineyards from all across the state of Michigan are reporting yields well above normal in 2011.
Shady Lane Cellars vineyard manager Jay Briggs, who is also the President of the Parallel 45 growers and winemakers association, explains that this year didn't start off on the best foot, "The cold, long spring we had in 2011 was certainly cause for concern, but bloom happened at a good time and July was nice and very warm, really boosting fruit development."
"The wonderful, warm fall allowed all our fruit to reach its potential. 2011 is shaping up as a monumental year as we have that rare combination of a huge harvest with very high quality fruit, which should provide consumers some of the best wines in recent history coming from Northern Michigan," raves Paul Hamelin of Verterra Winery in Leland. "2011 might be one of those exceptional years where all varietals did well."
Winemaker Charlie Edson agrees, explaining that for the winemakers at Bel Lago, "It's all about balance, and the 2011 fruit shows balance typical of Leelanau Peninsula with good acidity, great ripe flavors, and very good brix (sugar). 2011 is potentially one of the top vintages since 2000."
Edson is particularly excited about 2011 reds including Pinot Noir, which he says ripened well and early, and is already showing excellent development in the cellar.
Lee Lutes, winemaker at Black Star Farms notes that while the crop is excellent, such bounty is not without challenges, saying "Many winemakers are feeling stressed this year because of size of the crop, but this is part of the learning curve in winemaking. While we may all be overwhelmed by the volume of fruit, it's important for us to remember that we can make all these grapes into really good wine. We should be thankful because we never know what a future vintage will bring!"
One thing is for sure, soon the excellent 2011 vintage will be in the tasting rooms of the Leelanau Peninsula and on shelves all across the country. Enjoy and ask for Leelanau wine!
Links from this article:
elanau Peninsula Vintners Association: http://www.lpwines.com
Michigan Wine & Grape Council: http://www.michiganwines.com
Shady Lane Cellars: http://www.shadylanecellars.com
Verterra Winery: http://www.verterrawinery.com
Bel Lago Winery: http://www.bellago.com
Black Star Farms: http://www.blackstarfarms.com
The Leelanau Peninsula Vintners Association (LPVA) was formed in 2000 with a goal to help spread the word about all the wonderful things our wine trail and the Leelanau Peninsula has to offer. Today, it is the largest and strongest of the four organized wine trails in Michigan which promote the state's nearly $790 million grape/wine industry. More information available at http://www.lpwines.com/press.
###