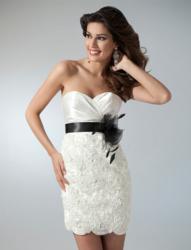 Helping people like the young ladies of Lumberton County or Shayn and all the other hard working volunteers at the Dare to Dream program is what the holiday season is all about
Philadelphia, PA (PRWEB) November 14, 2011
Promgirl.net is proud to announce two new partnerships with very deserving charitable organizations just in time for the Holiday season.
Promgirl.net has donated a total of 40 designer special occasion, cocktail and prom dresses to the Robeson County Public Library in Lumberton North Carolina. The dresses will be offered through the library to those young ladies of Lumberton County whose families have fallen on hard times. Proceeds from the sale of the dresses will raise money to help support the Robeson County Public Library and each dress represents one more girl who will be able to wear her very own gown to Prom this year.
In addition Promgirl.net has also begun supporting the Wishes and Dreams Foundation through their Dare to Dream program. The Dare to Dream program is about granting the wishes of unsung child heroes who strive to make the world a better place despite facing hardships of their own. One of Dare to Dreams newest members is Shayn, a 16-year-old girl who, despite a variety of health issues and living on a single part-time income, spends what little free time she has volunteering at her local soup kitchen and participating in a homeless outreach program.
Promgirl.net is very happy to donate a beautiful evening gown to Shayn for her to wear when receiving an award honoring her outstanding non-profit work. Shayn will also be wearing her gown to this year's prom after which point she will be passing it along to another young lady who is unable to afford her own dress.
"Helping people like the young ladies of Lumberton County or Shayn and all the other hard working volunteers at the Dare to Dream program is what the holiday season is all about" said Sunny Adrian president of Promgril.net "We intend to expand our commitment to these types of charitable programs because we believe in doing whatever we can to help people in these difficult times."
Promgirl.net will be posting photos of the Robeson County Public Library Fashion Show and Shayn accepting her award in the coming weeks. So be sure to check back for those wonderful images and further charitable contributions from Promgirl.net.
About Promgirl.net
With more than 25 years of experience in selling evening wear, formal and cocktail dresses Promgirl.net offers an extensive selection of dresses and gowns to meet the needs of each and every girl heading to the prom, graduation, homecoming , pageants and other formal events. The Promgirl.net team strives to offer the most desirable dresses and to provide outstanding customer service.
For additional information contact Promgirl.net at 18779007766 or on line at http://www.promgirl.net
###