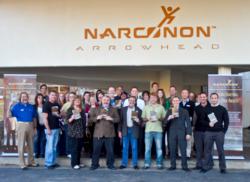 In late October in Canadian, Oklahoma, fifty people came together to create an alliance that would fight back at drug traffickers, dealers, and substance abuse in America.
(PRWEB) November 16, 2011
In late October in Canadian, Oklahoma, fifty people came together to create an alliance that would fight back at drug traffickers, dealers, and substance abuse in America. They were staff from Narconon Arrowhead, a large drug rehabilitation center in Canadian, Oklahoma, and people wanting to learn how to represent the Narconon program in their home towns. They came from St. Louis, Austin, Sedona, Northern California, and Florida to learn successful ways of helping addicts find rehabilitation.
Across the nation, one of the most successful ways people find the Narconon rehabilitation center in Oklahoma is with the help of individuals who have been through the program themselves or have learned about it and want to help others find lasting sobriety. Through the efforts of these volunteers, scores of people in need of drug rehab have made their way to the large facility neatly perched on the slope of a hill in Arrowhead State Park.
The visit started for each prospective representative with attendance at the weekly graduation event on Friday night, October 28th. At these graduations, students on the drug rehab program who complete a phase of the program have a chance to speak about their progress, and program graduates get to tell their stories. Sometimes families fly in from all over the country so they can beam with pride at their loved one who is clean and sober at last. When a graduate picks his mom out of the audience and gives her a hug with thanks for believing in him, it's a teary-eyed moment for the whole group. It can be hard to grasp the ruinous event of drugs and the way a formerly addicted person can be brought back to life until you attend an event like this.
Bright and early Saturday morning, the new representatives learned the nuts and bolts of referring people to the Arrowhead facility, hearing the experience of the old hands, people who have been saving addicted lives for years, sometimes for decades.
After their hard work, they were treated to something special. Graduates of the program who had been helped by field representatives to arrive at Narconon Arrowhead got up to give their wins resulting from their recoveries. One Narconon graduate named Brad told the crowd of how he got help when he told he told a family member that he didn't want to use methadone to deal with his addiction to opiates any more. That family member suggested that he call Narconon Arrowhead if he really wanted to be drug-free which is exactly what he did. He said, "I can't put into words what I have found and all that I've gained, I just know that I'm free in so many ways," he said. "I'm staying on at Narconon Arrowhead to give back the freedom I found to others."
Another Narconon graduate named Brandon told the audience that he heard about Narconon from a volunteer representative while he was at a medical detox, being gradually withdrawn from the addictive substances he had been involved with. He said, "I can't say I had a lot of hope when I got here but when I gave the program a real shot, I started to feel different. For the first time in years, I started to notice something good about myself. The way I feel now compared to when I got here is like night and day. I'm happy with myself and the progress I've made. If the representative hadn't called that day, I'm not too sure what I'd be doing right now but I'm thankful for the work she does and her dedication to helping others."
An attendee at the event and founder of a drug-free rehabilitation center commented on the improvements he's seen in people who complete the Narconon program stating, "The graduates I've met have truly handled their drug problems and can clearly draw from the strengths they learned at Narconon."
"The more people who find out about Narconon, the more lives we may be able to save," stated Derry Hallmark, Director of Admissions at Narconon Arrowhead. "There are good people out there who deserve the opportunity to get free from the addiction that may keep them from being a productive citizen and perhaps a good parent. The more people we can return to society as useful, contributing members, the safer and more enjoyable all our lives will be."
The Narconon Arrowhead field representative conference is an event that is held annually. For more information on the Narconon rehab center call 800-468-6933.
###