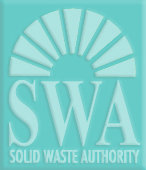 "Even through these tough economic times, our team has been able to provide the best service to the citizens of Palm Beach County at the lowest possible price. The bond upgrade is a reflection of our hard work and commitment."

Palm Beach County, FL (PRWEB) November 16, 2011
The Solid Waste Authority of Palm Beach County has been notified by Standard and Poor's Ratings Service that the SWA's bond rating has been increased from AA to AA+.
The announcement comes after a strong evaluation of the authority's business functions and history. In addition, Standard and Poor's assigned its AA+ rating with a stable outlook to the authority's bonds, series 2011.
The AA+ rating reflects the assessment of the authority's:

Revenue mix that relies primarily on assessment fees for two thirds of its revenue, significantly insulating the system from fluctuations in waste flow;
Collections procedure, with assessment levied on the county's property tax bill, but not tied to property valuation;
Ability to absorb the cost of its significant capital improvement plan (CIP) while maintaining relatively low non-ad valorem assessment rates;
Strong operational and financial performance of the authority's integrated solid waste system; and
Capital facilities plan that extends and increases the system's capacity.
"We are very proud to have received this bond upgrade, and firmly believe that the manner in which we conduct business at the Solid Waste Authority is truly in the best interest of our community and our taxpayers," says Mark Hammond, Executive Director for the Solid Waste Authority. "Even through these tough economic times, our team has been able to provide the best service to the citizens of Palm Beach County at the lowest possible price. The bond upgrade is a reflection of our hard work and commitment."
The bonds are secured by an unlimited non-ad valorem assessment on property throughout Palm Beach County, which accounted for a sizeable 72% of total systems revenue in fiscal 2010, as well as other operating revenue of the system. The assessment is included on the county's ad valorem tax bill. This structure provides for strong collection rates.
###