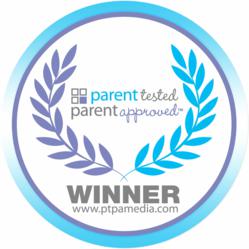 The PTPA Seal of Approval on a package is like shopping with your best friend.
Toronto, Ontario (PRWEB) November 15, 2011
As holiday shopping quickly approaches, Parent Tested Parent Approved has sifted through the product marketplace and found the top rated products as tested by families for their Holiday campaign.
From the Prodigy Infant Car Seat from Summer Infant, the Vtech InnoTab and the MumMe "Shoe" Socks, the list goes on. These are just a few of the products recently awarded the coveted PTPA Seal of Approval.
PTPA Media is North America's largest parent tester community – a credible third party resource for parents with over 40,000 volunteer parent testers.
"Seeing the PTPA Winner's Seal on a product package or website helps parents identify products that have been tested and recommended by other parents. It's like shopping with your best friend," says PTPA Founder and CEO, Sharon Vinderine.
Since 2008, PTPA has evaluated thousands of products and services from leading manufacturers and emerging brands. Because independent parents evaluate these products in their own homes, PTPA winners are chosen based on merit and consumer experience – not on commercial considerations.
PTPA Media has become a recognized source by the media for credible and reliable recommendations for their audiences. Recognized TV personality, PTPA Founder and CEO Sharon Vinderine has presented PTPA Award winners on over 40 morning shows including the Rachael Ray Show, Fox and Friends and Canada AM.
Here are just a few of the innovative new products to receive the PTPA Winner's Seal of Approval for their most recent Holiday 2011 campaigns:
Learn to Read – ReadingEggs.com is built on the 5 essential elements of reading instruction and uses over 500 interactive games to help your child learn to read.
LunchHugs Creative Cards for Kids – Add easy, affordable notes to your kid's lunches with jokes, fun facts, mushy stuff, and more! They'll love it and you!
Changing Diapers: The Hip Mom's Guide to Modern Cloth Diapering – Thinking of using cloth diapers? This helpful book is packed full of everything you need to know.
Gyro Bowl – Tested by toddlers and parents this unique, 360° rotating spill-proof bowl will be a welcome addition to any home. Keep snacks in the bowl, not on the floor!
Cold-EEZE – The next time you feel a cold coming on, reach for this! #1 pharmacist recommended, it reduces the duration and severity of your cold and tastes great too.
TFX Non Stick – The best baking tool for your kitchen. No more need for foil, parchment paper, cooking sprays, butter or oil! Use it and wash it 1000 times.
Also included in this winner's announcement are the fabulous GemGini Jewelry Organizer, the Springfree Trampoline for safer family fun, the adorable HABA Pulling Figure Diego Dragon, the handy SUPPORi Baby Sling/Carrier, and the gorgeous Personalized Growth Charts from Look Who's Growing.
For a complete list of award winners, visit the Holiday section of the PTPA Media Web Site.
About PTPA Media Inc.
PTPA Media provides an objective framework for appraising and promoting new products designed to enrich family living. The company's mission is to marry innovative companies with discerning consumers, to improve consumer access to quality products and services for their families and homes.
###