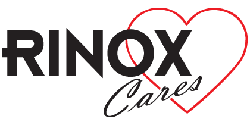 Douglassville, PA (PRWEB) November 15, 2011
Rinox Pavers, LLC, manufacturer of concrete paving stones and retaining wall systems, took part in the Philadelphia regions The Leukemia & Lymphoma Society (LLS) Light The Night® Walk as part of its Rinox Cares program. This program is the charitable arm of Rinox Pavers and includes an ongoing effort in support of the LLS. The event was held at the Philadelphia Museum of Art on October 22, 2011, and featured perfect weather, lively entertainment and a sea of illuminated balloons carried down Martin Luther King Boulevard. "Team Rinox" set an ambitious fundraising goal of $20,000, and is ever so close to achieving it, having raised over $19,400 to date. This total currently ranks Team Rinox an impressive third overall for all fundraising teams in the region. With the deadline for donations being December 30, 2011 they remain hopeful that they will reach their goal before year's end.
The event itself was also a huge success, attracting over 6,000 walkers and raising $709,000 (and counting) for LLS. At the Walk, teams of families, friends, co-workers and local and national corporations came together to raise funds for LLS and bring help and hope to people battling blood cancers. During the leisurely walk, walkers carried illuminated balloons - white for survivors, red for supporters and gold in memory of loved ones lost to cancer. 6,000 men, women and children joined together to form a community of caring, illuminating the night and bringing light to the dark world of cancer.
The Light The Night® Walk is about family, friends and business joining together. Team Rinox received wonderful support from Dop Dop Salon of SoHo, NYC. Owner Jo Blackwell-Preston, Master Stylist Jessica Vosper and the rest of the entire Dop Dop staff helped host a fundraising event on October 19th at the salon. The event raised over $10k for the Rinox Cares campaign and 100% of all proceeds were given to the LLS. Local businesses (including Dop Dop) in SoHo, NYC area joined together for a wonderful evening and donated items and services to auction off to help raise funds. Over 100 families, friends, and nearby businesses participated in this great fundraising night to make it such a success. For more information on Dop Dop Salon please visit http://www.dopdop.com or call 212-965-9540.
The Rinox Cares program was founded as an opportunity to give back to selected organizations and charities, through various fundraisers and product campaigns designed specifically for the individual recipient. Rinox selected LLS as this year's charity due to being both impressed with the clear purpose and proficiency in which the organization operates, as well as Rinox's employees' own personal experiences with blood cancers. With this year's event such a success, Rinox looks forward to selecting next year's campaign beneficiary and supporting events. For more information on the Rinox Cares program, please visit http://www.rinoxpavers.com/rinoxcares or call 610-323-6600.
About Rinox:
Rinox Pavers is an industry leading manufacturer of concrete paving stones, patio pavers, retaining wall systems, landscape block and masonry products, and has continued to make dreams come true in private homes and commercial settings throughout the Northeast United States and Eastern Canada. Rinox distributes their material through authorized dealers from their Pennsylvania facility to New York, New Jersey, Pennsylvania, Delaware, Maryland, Washington D.C., North Carolina, Virginia, and West Virginia. Rinox proudly displays their hardscape materials at local outdoor showrooms and offers instructional classes for the do-it-yourselfer. For those interested in having a contractor quote a backyard patio, pool deck, driveway, walkway or other hardscape project, please contact us at http://www.rinoxpavers.com or call 1-866-99-RINOX.
About The Leukemia & Lymphoma Society:
The Leukemia & Lymphoma Society® (LLS) is the world's largest voluntary health agency dedicated to blood cancer. The LLS mission: Cure leukemia, lymphoma, Hodgkin's disease and myeloma, and improve the quality of life of patients and their families. LLS funds lifesaving blood cancer research around the world and provides free information and support services.
Founded in 1949 and headquartered in White Plains, NY, LLS has chapters throughout the United States and Canada. To learn more, visit http://www.LLS.org or contact the Information Resource Center at (800) 955-4572, Monday through Friday, 9 a.m. to 6 p.m. ET.
###