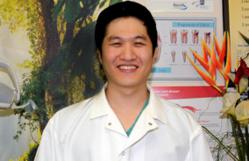 There are many factors to take into consideration before I undertake dental implant surgery.
Queens, NY (PRWEB) November 16, 2011
Atlas Park Dental, Queens, NY, and Queens Periodontist Brian Chung, DDS, are pleased to announce that he is now offering periodontal care services to Queens area patients suffering from one of America's number one reasons for tooth loss, periodontal gum disease. "Modern technology and the early detection of Periodontal Disease will significantly benefit people who are missing teeth from disease or accident," says Dr. Chung.
Dr. Chung emphasizes that modern dental technology has produced updated solutions for patients missing teeth from disease or accident and one very important area that has made great changes in recent years is dental implants. At a 95%-98% success rate, dental implants can last a lifetime, if they are taken care of properly. The life expectancy of dentures is about five years. Dental implants are fused to bone in the jaw and give the recipient an artificial tooth that looks like a real tooth.
Although dental implants have been around for decades, recent advancements in dental implantology are allowing more patients access to sound periodontal solutions that were not possible even in the last five to ten years. Dr. Chung reminds his patients that not everyone is a candidate for dental implants however. "There are many factors to take into consideration before I undertake dental implant surgery," says Dr. Chung, "the first step is to set up a dental consultation where we work together to create an individualized dental plan."
Dr. Chung works with his patients one on one constantly educating them on the merits of proper dental hygiene in anticipation of not ever having to offer dental implants as a solution to their dental problems. Dr. Chung also tells his patients that it is very important to understand that periodontal disease can take on a number of different forms, including diabetes, cardiovascular disease and Alzheimer's disease, as well. For a risk assessment please visit the American Academy of Periodontology.
About Brian Chung, DDS:
Dr. Brian Chung graduated from Columbia University College of Dental Medicine, New York with a D.D.S degree and went on to the University of Pennsylvania School of Dental Medicine and received a Post-doctoral Periodontics Resident Certificate in Periodontics and M.S. in Oral Biology. Dr. Chung speaks Korean fluently and is an active member of the American Academy of Periodontology, American Dental Association and is currently Vice President of the Korean Graduate Students Association.
About Atlas Park Dental, P.C.:
Atlas Park Dental is a state-of-the-art dental center located at the Shops at Atlas Park in the heart of Queens, at 80-28 Cooper Avenue, Building 6, Suite 207, Glendale, NY 11385. The office is open seven days a week with some evening appointments available. To make an appointment or to gain more information about Atlas Park Dental, call 718-894-2110 or visit http://www.atlasparkdental.com.
###