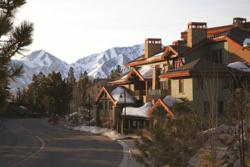 "We are excited to add Auberge's signature touches to this already exceptional Mammoth property," said Mark Harmon, Principal and Chief Executive Officer, Auberge Resorts.
Mill Valley, Calif. (PRWEB) November 15, 2011
Auberge Resorts, owners and operators of award-winning luxury resorts and private residence clubs throughout North America, has continued its expansion into ski country. The company today announced that it will assume management of 80|50 Mammoth in Mammoth Lakes, Calif. on December 1, 2011, and rebrand it as the Auberge Residences at Mammoth. This newest addition to Auberge's portfolio of exceptional resorts and residences includes 28 one, two, and three-bedroom luxury residences that will be available as both fractional ownership and rental units.
Ideally situated just steps away from the Village gondola that provides direct access to one of North America's most acclaimed ski mountains, the property is surrounded by majestic pines and framed by the towering Sierra Nevada mountain range, offering world-class skiing and year-round outdoor activities, eclectic shopping and dining, spa services and entertainment venues. The residences echo the beauty of their natural surroundings through the use of rustic mountain elements of flagstone, burnished wood, copper, leather, granite and slate. Expansive windows and private balconies provide endless inspiration and opportunities to contemplate nature, rest up from a day on the slopes or watch the ever-changing parade of the seasons. Additional amenities include rooftop pools, fitness and treatment rooms, a private roof top clubroom, media room, and game room.
Auberge Residences have partnered with celebrated local chef Matt Toomey who will be opening a new kitchen and take out concept in December. The new eatery is located in the ground floor of the Auberge Residences and will provide Toomey's acclaimed take-out, catering and family style in residence dining to the owners and guests. Toomey's new concept is certain to be a hit among locals and guests who have been fans of Toomey's for years and now will have a year round in-town location to enjoy his cuisine.
"We are excited to add Auberge's signature touches to this already exceptional Mammoth property," said Mark Harmon, Principal and Chief Executive Officer, Auberge Resorts. "2011 has seen us enter into management agreements with Telluride's Auberge Residences at Element 52 as well as Aspen's legendary Hotel Jerome, and we're thrilled to be expanding our presence to some of the most acclaimed ski destinations in the United States."
About Auberge Residences at Mammoth
The Auberge Residences at Mammoth provides a unique combination of equity ownership vacation-home lifestyle and high-end resort amenities. Each of the 28 spacious residences provides rich furnishings and décor, fireplaces, full kitchens, and mountain views. The private rooftop area includes a fitness center and spa facilities, clubroom and bar, three outdoor pools and sunning deck. Conveniently located in the vibrant Mammoth Village, owners and guests can enjoy a variety of year round activities and adjacent gondola for ski-in/ski-out access. For ownership or rental information, please contact us at 866-311-8050.
About Auberge Resorts
Auberge Resorts is a collection of exceptional hotels, resorts and private clubs, each with a unique personality that assures a memorable guest experience. While Auberge Resorts nurtures the individuality of each establishment, all are characterized by a set of communal elements: intimate, understated elegance; captivating locations that inspire exceptional cuisine and spa experiences; and gracious yet unobtrusive service. Among the Auberge Collection of distinctive properties are: Auberge du Soleil, Napa Valley, Calif.; Calistoga Ranch, Napa Valley, Calif.; Solage Calistoga, Napa Valley, Calif.; Encantado, Santa Fe, New Mexico; Esperanza Resort, Cabo San Lucas, Mexico; The Inn at Palmetto Bluff, Bluffton, S.C.; Rancho Valencia, Rancho Santa Fe, Calif.; Element 52, Telluride, Colo.; and the Hotel Jerome e, Aspen, Colo., with several others currently in development. For more information about Auberge Resorts, please visit http://www.aubergeresorts.com.
###