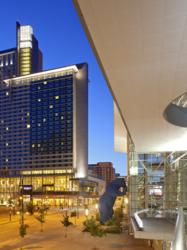 (PRWEB) November 16, 2011
Hyatt Regency Denver at Colorado Convention Center, as a preferred hotel of the soon-to-open Clyfford Still Museum, is pleased to be one of the only hotels in the United States to present a Clyfford Still Museum Package. The value-added getaway, which provides ease in visiting Denver's newest world-class cultural attraction, includes:

An overnight accommodation at the 4-Diamond award winning hotel
Two adult admissions to the Clyfford Still Museum
Two cocktails in Peaks Lounge, located on the hotel's 27th floor
Clyfford Still Museum, opening in Denver on November 18, 2011, will house 94% of the artist's works making it the only display of its kind in the world. It is a short eight block scenic stroll from Hyatt Regency Denver, past the State Capitol through Civic Center Park.
In addition to two admissions to the museum, Hyatt Regency Denver's overnight package also includes two cocktails in Peaks Lounges. Peaks Lounge is windowed on three sides, making the outdoor cityscape and view of the rugged Rocky Mountains key in its overall ambiance. Hyatt director of food and beverage, James Kratofil, commented: "Peaks really delivers Denver. With the opening of the Clyfford Still Museum the only attraction of its kind, we are anticipating a lot of visitors. This is the perfect vantage point for seeing how much the city has to offer." In addition to serving over 40 wines by the glass and an array of appetizers and desserts, Peak mixologists create signature cocktails as well. To mark the occasion, they've concocted a Chocolate Strawberry Martini, Red Sangria Canvas Merlot and even a 27th Floor Martini of Cognac, Godiva Chocolate Liqueur, Bailey's, Frangelico and Espresso.
Hyatt Regency Denver's Clyfford Still Museum package starts at $105 per room and is offered through February 28, 2012. Reservations may be made by calling toll-free (800) 233-1234 or by visiting http://www.hyattregencydenver.com. Guests may ask for or enter offer code: STILL (subject to availability; other restrictions may apply).
About Hyatt Regency Denver
Hyatt Regency Denver at Colorado Convention Center is one of the region's largest hotels. Having opened just six years ago, it is sleek and contemporary in design and is located in the heart of the Mile High City, just one block from the 16th Street Mall pedestrian promenade and Denver Center Theatre District and adjacent to the Colorado Convention Center. All 1,100 accommodations are ultra-modern and each features the Hyatt Grand Bed, an LCD flat screened television and a host of amenities. A 1820 square foot state-of-the-art fitness center is further enhanced by the Spa Universaire, an indoor lap-pool and outdoor, sun deck whirlpool. In addition to Altitude Restaurant, Hyatt Regency Denver provides two lounges: Strata Bar located in the lobby and the 27th floor Peaks Lounge overlooking the Mile High City. The hotel features over 60,000 square feet of versatile meeting and event space. Find more information at http://www.denverregency.hyatt.com.
An Experience Unlike Any Other in The World.
Clyfford Still is considered one of the most important and significant American artists of the 20th century. He originated the Abstract Expressionist movement and influenced the work of contemporaries such as Jackson Pollock and Mark Rothko. Few artists of this magnitude have left behind such a comprehensive and mysterious collection of work. And never before has the world seen such a collection of work displayed intact, and under one roof. The Clyfford Still Museum provides visitors with an unprecedented opportunity to view and appreciate Still's extraordinary art and life. The size and significance of the collection, coupled with the extraordinary building design, makes this museum unlike any other. More information on the museum may be found by visiting http://ClyffordStillMuseum.org.
# # #