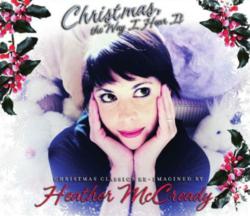 Heather McCready's sweet voice and message of hope was destined for Christmas!
Dallas, TX (PRWEB) November 15, 2011
She will make you smile with her youthful whimsy and mesmerize you with her signature sound. Heather McCready's music is always a uniquely crafted, finely tuned blend of gently rolling folk, haunting celtic, rich classical and free-spirited whimsy.
Be sure to tune in to Fox 4 "Good Day Dallas" between 8-9:00 A.M to see Heather and her band perform songs from "Christmas,The Way I Hear It"! They will be promoting the Chi Omega Christmas Market Charity Event held on November 16th and 17th at the Dallas Convention Center where they will be performing again.
This remarkable Christmas album shines in large part due to the incredible musicianship of Milo Deering. Milo is highly respected and in-demand as a producer, arranger, and composer who has played, arranged, and produced literally hundreds, if not thousands, of CD's, commercials, and movies in his career. Milo amazingly played all the beautiful instrumentation heard on "Christmas, the Way I Hear It" with the exception of the cello, played by master level cello player Brian Magnus. The music he plays includes guitars, violin string arrangements, mandolin, fiddle, bass, banjo, and percussion! The CD is full of imagination, warmth and the stunning vocals of Heather McCready and Milo Deering together. Their harmonies glide effortlessly around the melody like a warm and comforting blanket.
"Christmas, The Way I Hear It" is available on CD Baby, and will soon be available on iTunes as well.
Watch the video of "Silent Night" that inspired it all!
Follow Heather on Twitter @Travelingirl1
Find Heather on Facebook:
"HeatherMcCreadyMusic" and "Join Heather McCready to Fight For Mental Health Awareness"
Subscribe To Mccreadytube on Youtube
Getting to Heather McCready..
Since 2009, Heather has now released four full-length albums, "Finally Free", "Neverland", "Give It A Day" and "Christmas, The Way I Hear It". Through every album, Heather continues to grow and evolve as an artist. She is known for her boundless creativity and passionate disposition, as well as her perfectionistic and hands-on approach to all aspects of production. Heather loves taking musical risks and believes the art of producing good music is in the details - focusing on dynamics, simplicity and purity of sound. Heather and her band use a blend of acoustic guitars, fiddles, mandolin, piano, cello, and upright bass, as well as Heather's own angelic and distinctly pure voice to create unparalleled compositions.
Heather currently has airplay all over the world and was featured twice on the Fox network in 2010, once performing the title track from her most recent CD, "Give It a Day", a personally significant release for her because it is marks the beginning of her personal platform for mental health awareness. After losing two of her closest family members to suicide and struggling with bipolar disorder herself, Heather aspires to help other mental health sufferers and to fight against existing antiquated stigmas associated with mental health disorders.
For more on Heather's story and for Mental Health Advocacy click on the "My Story" tab at HeatherMcCready.com. Heather is currently serving on the board of the Mental Health Association of Tarrant County.
###