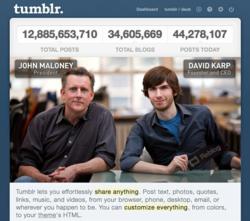 "We are witnessing the rise of the micro content marketing agency."
Columbus, OH (PRWEB) November 17, 2011
Tumblr's refreshingly clean interface is becoming a welcome change for the masses quickly tiring of the constant evolution at other social sites like Facebook. According to Nielson, Tumblr is ranked just behind Facebook, but ahead of Twitter in total minutes spent on the network. "Consumers crave bite-size news from peers and sites like Tumblr have honed in on a sexy middle ground between lengthy blog posts and short form tweets," says Launch Farm Founder, Christian Deuber.
Micro content's popularity and ease of publishing is forcing marketers to evolve from producers of branded content to curators and instigators of condensed, audience-friendly conversations. "The popularity of Tumblr, and micro content in general, has brands scrambling to find help to monitor, listen and contribute in this space," says Deuber. "Much like Tumblr and Twitter embrace a singular, clutter-free offer – brands are looking for a focused content partner/publisher to help them optimize their micro content channels."
According to LinkedIn, users of full service marketing agencies have become overwhelmed with the growing list of services to consider. Slicing up responsibilities for strategy, branding, design, copywriting, marketing, advertising, pubic relations and social media can be a daunting task.
Brands are waiting for the Tumblr version of the marketing agency. "We are witnessing the rise of the micro content marketing agency," says Deuber. "If these highly specialized agency hybrids can share compelling commentary with a genuine passion for the brands they represent, it could be the natural evolution of social marketing and publicity."
About Launch Farm
Launch Farm is a boutique digital agency focused on cultivating fresh content for active brands. Powered by disruptive marketing and pr executives freed from their big agency posts, the focus at The Farm is complete immersion with a brand's core audience. With a passion for copywriting steeped in branding and an unhealthy love of technology – Launch Farm is reinventing marketing communications. http://www.TheLaunchFarm.com
###