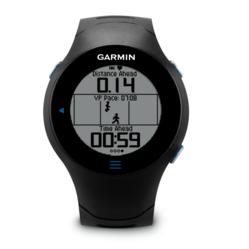 .....the best all-around GPS watch I have ever tested.
Bozeman, MT (PRWEB) November 15, 2011
The Garmin Forerunner 610 has been voted as the best new GPS watch for 2011 by the staff at the Heart Rate Watch Company. "The Garmin 610 broke new ground with touch screen navigation, screen customization and in bringing innovative new features like training load to the Garmin fitness line up," says Rusty Squire, President of the Heart Rate Watch Company. He continues, "I used it for 2 months solid this summer and is by far the best all around GPS watch I have ever tested".
To celebrate the Garmin 610 the Heart Rate Watch Company is pleased to announce that it will be giving away free Garmin foot pods, normally a $69 retail value, with the purchase of any Garmin Forerunner 610 GPS watch from November 20th until December 7th, 2011.
Indeed the Garmin 610 was the first GPS watch to incorporate highly intuitive touch screen navigation into a heart rate monitor but it also added the ability to accommodate all the other outdoor sports besides running. "Runners look at pace in minutes per mile while practically every other sport uses miles per hour, so a lot of the pure running watches out there just don't have this versatility" states Squire.
If there is any chink in the armor of the new Garmin 610 then it is likely to be the battery life. The rechargeable lithium-ion batteries last for between 7 and 8 hours, plenty long enough for most athletes but a bit shy of the life span required for a full Ironman or an ultra-marathon. Fortunately for the ultra crowd there is the new Garmin Forerunner 910XT which has about 18 hours of run time in full GPS mode between charges.
The consensus of testers sited the vibration alerts and the nearly normal watch size as two of the things they liked most about the Garmin 610. This watch is about half the size of the early generation GPS watches like the Garmin 305 and that makes it much more adaptable to daily use.
The Garmin 610 also works with Garmin's cadence sensor for cycling and foot pod for running to give you run cadence and foot falls per mile. These additional data points help expand this watches versatility and usefulness to endurance athletes.
Mapping features on the Garmin Connect software platform are truly outstanding such as a single button export to Google Earth, a single button altitude correction and a player function that lets you freeze your precise measurements anywhere along your course.
Of course winter sports like alpine and cross-country skiing are also suitable for the Forerunner 610. As Squire says, "Once you own one of these devices you'll find yourself using it for many things beyond the original use, for instance mapping all of your runs for a day of alpine skiing."
It was this versatility along with innovative new features that made the Garmin 610 the Heart Rate Watch Company's top pick for new GPS watches introduced for 2011.
###