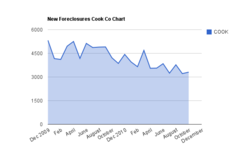 Completed Foreclosures Continue to Lag New Filings
As Vacant Housing Inventory Maintains Upward Trend
Chicago, IL (PRWEB) November 15, 2011
New foreclosures filed in the Chicago area during October rose slightly compared with a month earlier but fell by nearly one third from a year ago, according to figures compiled by the Illinois Foreclosure Listing Service (ILFLS.com). New foreclosure filings in the seven-county area tracked by ILFLS totaled 5,316 in October, compared with 5,161 in September and 7,989 in October 2010. Completed foreclosures — those selling at auction or reverting back to lenders — increased to 1,778 in October from 1,762 in September and 1,63 in October 2010. But the number reverting back to lenders after they did not sell at auction (Real Estate Owned, or REO) continued to represent the overwhelming majority of completed foreclosures.
"This glut of REO properties — well over 90 percent of the completed foreclosures — means these properties remain on the market and will continue to adversely affect housing prices," said Peter George, ILFLS Database and Information Manager. "There was slight improvement in the number of units sold at auction year-over-year, but the numbers are so small as to be almost inconsequential."
Overall, new REO properties increased 2.1 percent to 1,671 in October compared with 1,636 in September and increased 11.8 percent compared with 1,494 in October 2010. Properties sold at auction fell 15.1 percent to 107 in October compared with 128 in September but increased 55.1 percent from 69 in October 2010.
"As expected, the number of new filings seems to be picking up compared with recent months now that the 'Robo-signing' controversy is ebbing," George said. "We expect this trend to continue over the next few months."
The Illinois Foreclosure Listing Service (ILFLS) is a Chicago-based subscription service that provides up-to-date data on foreclosure filings and related activities throughout the Chicago area, including Cook, DuPage, Lake, Will, McHenry, Kane and Kendall Counties. ILFLS recorders are assigned to every courthouse in the coverage area, which they visit daily to collect the latest data. ILFLS provides a searchable database and a broad array of productivity tools, all designed by and intended primarily for real estate professionals.
###