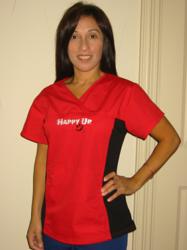 Dallas, TX (PRWEB) November 15, 2011
Happy Up™, an apparel and gift brand that primarily serves the resort and tourist gift shop market, recently launched Happy Up Scrubs.
Created for the medical community, Happy Up is expanding its particular brand of optimism to nurses, doctors, and health practitioners. "We see the Happy Up brand as an ideal fit for the medical field," commented Allan Fischler, founder of Happy Up. "The Happy Up brand spreads good vibes, and we see medical scrubs as a great way to spread those good vibes to people who really need it. In our research we found that nurses and health professionals who wear scrubs on a daily basis are very receptive to scrubs that promote a positive, upbeat message."
Fischler added that customers made it clear that they wanted scrubs that offered comfort and came in a good selection of colors and styles. Happy Up offers a wide variety of scrubs that are soft and well-manufactured. All the Happy Up scrub tops, like its tees and hats, include an embroidered Happy Up logo. Fischler believes the message on the scrubs will bring a smile to patients and help to spread cheer to family and friends.
The new Happy Up Scrubs are available online at the company's official web store -- http://www.happyuponline.com.
ABOUT Happy Up
Happy Up is an apparel and gift brand that strives to spread good vibes. Created with resorts and vacation destination gift shops in mind, Happy Up products are also great for the medical community, college bookstores and more. Happiness is contagious. Spread some around.
###