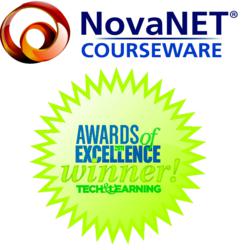 New York, NY (PRWEB) November 15, 2011
NovaNET® Courseware, a digital learning curriculum from Pearson, is a winner in "Tech & Learning" magazine's 29th annual Awards of Excellence program. For the second consecutive year, the company leads the prestigious competition, with honors for seven of its online and mobile learning tools and programs.
Serving more than 3 million students over the past 10 years, NovaNET Courseware provides personalized, comprehensive online learning paths to provide middle school through adult learners – especially those students most at risk of falling behind – with the necessary skills and competencies for college- and career-readiness.
With individualized instruction, a complete learning management system and core curriculum that is well-correlated to the Common Core State Standards for mathematics and language arts, NovaNET Courseware can be utilized for any number of education applications, including credit accrual, dropout prevention, summer school, credit recovery, virtual schools and virtual learning.
"This honor for one of our premier digital curriculum programs is a testament to our belief that personalized learning is the key to ensuring that all students graduate from high school ready for college and career," said Chris Dragon, president, Pearson Digital Learning, a business of Pearson School. "Pearson is committed to continuing to invest in the development of education technology solutions, such as NovaNET Courseware, that engage learners and allow them to design their own paths to academic and personal success."
NovaNET Courseware received 2011 Award of Excellence Best Upgraded Product honors. In the past year, the program added 18 semesters' worth of high school content as well as new content for middle school students, spanning all curriculum areas, and made significant enhancements to its teacher and student management functions. The program is among the winning products featured in the December 2011 issue of "Tech & Learning" magazine and on the website.
About Pearson
Pearson, http://www.pearsoned.com, has as its mission to work side by side with states, districts, teachers, students and parents to ensure that every child is prepared for college and career (NYSE: PSO).
For more information:
Kate Miller, kate.miller(at)pearson(dot)com–800.745.8489
###