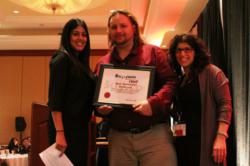 Hatfield, PA (PRWEB) November 15, 2011
World Wide Stereo (http://www.wwstereo.com), one of the nation's leading consumer electronic retailers' was recently honored at Buy.com's NEXT 2011 conference in Newport Beach, California. Director of eCommerce, Bill Hettinger and Marketplace Sales Manager, Fern Rutberg of World Wide Stereo's ecommerce division were on hand to accept the award for "Best Storefront" from Buy.com. A member of the Rakuten group, Buy.com's award is given to the online retailer who continuously provides a creative and cohesive effort in the development of an outstanding storefront. Utilizing concepts and ingenuity to provide customers with an excellent shopping experience, World Wide Stereo's celebrated ecommerce site was designated as the 2011 recipient.
Hettinger was also invited to participate in a "Best Practices Seller Panel" during the conference with other prestigious e-tailers that included Wayfair, eForCity, In That Case and MLG Jewelry.
Hettinger was selected for this key panel based on World Wide Stereo's solid reputation for providing excellent customer service as well as his vast knowledge and expertise in selling home theater and electronics products. In response to the award, Hettinger stated, "We are thrilled to accept this honor on behalf of the entire World Wide Stereo team -- is truly a representation of the talent, focus and passion we put into building http://www.wwstereo.com."
Visit the World Wide Stereo storefront on buy.com here: http://world-wide stereo.store.buy.com/http://world-wide-stereo.store.buy.com/
About World Wide Stereo
For over three decades, World Wide Stereo has been one of the nation's leading providers of emerging technologies, both cutting edge and practical in the consumer electronics arena. With a reputation for integrity and quality, World Wide Stereo has survived the test of time by offering personal service, award winning installations, and competitive pricing that bring the finest Audio, Video, Home Theater and Home Integration products to reality. World Wide Stereo's (http://www.wwstereo.com) eCommerce site has been widely recognized by consumer advocate groups for its superior customer service and products.
###