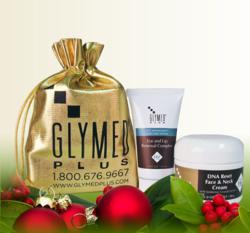 Salt Lake City, UT (PRWEB) November 15, 2011
GlyMed Plus, renowned leader in professional skin care, today announced their 2011 Holiday Gift Set as a must-have survival kit for skin during harsh winter months. A limited time offer, this exclusive promotion includes two best-selling products - DNA Reset Face & Neck Cream and Eye & Lip Renewal Complex packaged in a beautiful, gold metallic cosmetic bag. Both products are known for their ability to instantly restore moisture and protect skin from harsh environmental elements, making the duo a perfect gift for the holidays.
Newly launched DNA Reset Face & Neck Cream has quickly become a favorite of both skin care professionals and consumers due to its dramatic lifting and tightening effects on the face and neck. Eye & Lip Renewal Complex provides special care to the delicate lip and eye area, supporting a youthful lip vermillion border and reducing the puffiness and under-eye circles that can develop from late night holiday festivities.
For over 20 years, GlyMed Plus has been producing unparalleled results in skin with their pharmaceutical-grade formulas. GlyMed Plus products are available only in exclusive spas and salons. To find a certified GlyMed Plus professional in your area, visit http://www.glymedplus.com or call 1-800-676-9667.
###