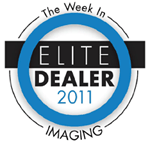 Bloomington, MN (PRWEB) November 16, 2011
Loffler Companies has been selected as a 2011 Elite Dealer by The Week in Imaging (http://www.theweekinimaging.com), an online information and news publication for resellers of imaging technology, supplies, and services. This is its third consecutive year of earning this prestigious award and fourth award in recent years.
The Elite Dealer awards have been presented annually from 1989-2009. This is the first year they've been presented by The Week in Imaging. The Elite Dealer Awards honor the best and the brightest in the imaging technology dealer community. This year's Elite Dealer honorees encompass entrepreneurs, innovators, survivors, top sellers, and celebrated members of the communities they serve. These are the dealerships that provide office technology, software, and services to businesses and organizations of all sizes.
"Winners are not based on sales figures alone although many of this year's Elite dealers are some of their manufacturer's best sellers," states Scott Cullen, publisher and editor of The Week in Imaging. "The focus is on growth, innovative marketing and sales programs, community leadership, and leadership within the industry."
"The Loffler team is proud of its approach … to listen closely for the client's needs, build an innovative solution to enhance productivity while saving money, and then delivering and supporting that solution," says Jim Loffler, President and CEO, "We measure our success on the ability to exceed our clients expectations by delivering on our promise."
Another key consideration is the work environment they provide employees and the job satisfaction that culture inspires. Involvement with the community is also important and many Elite dealers and their employees generously donate time and money to the communities in which they work.
"We firmly believe all of those are important qualities of an Elite Dealer," adds Cullen. "It's not any one trait, but a combination of traits that make an Elite dealer and a dealership such as Loffler Companies truly Elite."
Loffler Companies is an independent Professional Services Organization that is dedicated to providing excellence in digital office technologies, services and IT solutions. They are also recognized as the number one Minnesota Canon Copier dealer, Minnesota Konica Minolta dealer covering Minnesota and Western Wisconsin, and an Elite Partner HP dealer. Other recognition that Loffler Companies has received this year includes; Inc 5000 list of the fastest-growing private companies in America for the fourth year in a row, Ernst & Young Entrepreneur of the Year Finalist, Star Tribune Top 100 Workplaces in Minnesota, and CRN VAR 500 Top Technology Integrator. The company's goal is to be the best business solutions provider in the Midwest.
About Loffler Companies, Inc.
Loffler Companies is an independent Professional Services Organization dedicated to providing superior digital office technologies. They have emerged into a quality focused Business Communication Company that offers a broad portfolio of technology, services and solutions servicing the eight county Twin City metro area, St Cloud area, and Western Wisconsin. Their offerings include multifunctional copiers, printers, managed print services, telephone systems, dictation, IT managed services, and on-site managed FM services for mail rooms and copy centers. For more information about Loffler Companies, please call Loffler at 952-925-6800, email us at info(at)loffler(dot)com, or visit http://www.loffler.com.
###