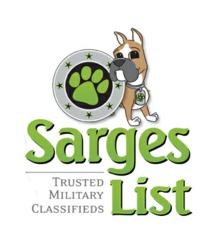 Military Spouses and Veterans are resilient, hardworking and extremely creative problem solvers. Because of spouse's non-traditional employment history or the non-commercial nature of Veteran's skill set, they are overlooked for employment.
Grass Valley, CA (PRWEB) November 29, 2011
Amidst a growing focus on employment for Veterans, SargesList announces a new job listings feed that will aid military spouses and Veterans in securing gainful employment. The Department of Labor Statistics published a 26 percent unemployment rate among military spouses and a 12.4 percent for Veterans. SargesList provides a one stop site for all facets related to military relocation (or separation). Employment is a critical component to the health and well being of the United States' Armed Forces and their families.
SargesList, the trusted military classifieds site for troops and families looking to buy and sell household goods, automobiles and real estate, is proud to announce the addition of thousands of employment opportunities. With service members moving to a new location on average every two years and the current state of the economy, SargesList is filling a much needed void for this highly marketable audience.
In the article, "Military Spouses Face Especially Grim Job Prospects," author Tamara Keith cites that 84 percent of military spouses have some college, 25 percent have a bachelor's degree and 10 percent have an advanced degree. Within this average, 85 percent want or need to work to keep up a family budget. While the Federal government is working hard to highlight the benefits of hiring military spouses and Veterans especially with new legislation, the private sector needs to get more involved and that's where SargesList will play a role.
Military spouse, Nicole Leech has been married to the U.S. Army for 15 years, with 11 duty stations under her belt and has met employment obstacles in her relocations. She states, "I moved to Joint Base Lewis McChord, Washington a year ago. Even with two college degrees and great references, I couldn't find a job for almost a year. Luckily, SargesList hired me and now I have a highly portable job and I get to help give back in my 'military family.' With our expansion of employment listings, relocation and separating from the service will see a significant increase in quality of life for our Veterans and spouses!"
"By and large, our military spouses and Veterans are intelligent, flexible, hardworking and extremely creative problem solvers. However, because of spouse's non-traditional employment history or the non-commercial nature of Veteran's skill set, they are overlooked for employment for which they otherwise would qualify. As highlighted in the news, unemployment for this group is a problem and we're going to be a part of the solution," said Lisa Klinkhammer, CEO for SargesList, who now employs a total of five Veterans and military spouses and is looking forward to hiring more.
In contrast with other large job listing sites that charge fees to promote job listings, SargesList offers free it's listing service for free to employers around continental U.S. military installations. Lastly, for those Veterans or military spouses that own their own businesses, SargesList provides a free advertising channel to sell their consumer products and services to help grow their businesses.
Company Information
SargesList is a Veteran owned company that provides trusted classifieds for active duty military, Veterans, Reserves, National and Coast Guard to buy, sell, trade and connect at over 500 installations around the world. SargesList helps military buy and sell household goods, vehicles, homes for sale, find employment, local services and area information and much more in a single site. The site was built by the team that developed and maintains the Automated Housing Referral Network (AHRN.com). In working with the military for almost 10 years, the team discovered a need for a military classifieds site to connect military locally or globally. Unlike other classified sites, it provides military families with a more trusted interaction with a stamp for users who register with their DOT MIL email to help users identify who is in their Department of Defense network. Watch video or contact Lisa Klinkhammer at (916) 761-8717 or info at sargeslist.com
###