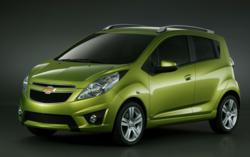 San Antonio, Texas (PRWEB) November 16, 2011
Tom Benson Chevy-one of the leading Chevy dealerships in San Antonio is happy to announce that on November 16th the 2013 Chevy Spark will be debuted at the Los Angeles International Auto Show. The Spark is a five-door hatchback that has been updated for U.S. and Canadian buyers. The car has been sold in Europe and Australia already.
The Spark is being targeted at first-time buyers as well as city commuters, although it is a great car for anyone. Offering bold styling and colors, 10 standard air bags, affordability and fuel efficiency, the Spark is a great vehicle to get around in.
Chevy will offer the MyLink infotainment system in the Spark as well. This system features the personalized connectivity of Pandora and Stitcher internet radio. The Spark is also the only car in its segment that has a 100,000-mile powertrain warranty.
Tom Benson Chevy is extremely excited about the all-new 2013 Chevy Spark to come to the U.S. The Spark is an affordable, economical solution for consumers looking for fuel-efficiency, maneuverability and style. Tom Benson Chevy offers many Chevy cars in San Antonio and used cars in San Antonio. People who are interested in a new or used car should stop by Tom Benson Chevy.
# # #