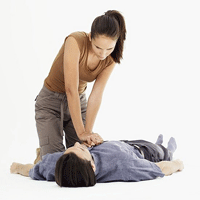 Dunsmuir, CA (PRWEB) November 20, 2011
According to the American Heart Association, over 300,000 people suffer from cardiac arrest each year outside the hospital. Less than eight percent of these survive. From the elderly to high school athletes, cardiac arrest is a leading killer in the U.S. FireWhat Inc. is now offering firefighter training and CPR classes to the public.
The most common reason most people die? CPR was not applied soon enough. The brain begins to experience non-reversible damage only six minutes after the heart stops beating. The average fire department/EMS response time varies greatly, and can be from under four minutes to as high as eight or ten. A person's chance of survival drops seven to ten percent with each passing minute.
What can you do? Get CPR training. Simply put, the sooner blood is forced through the body by means of chest compressions, the better the chance of survival.
Unless you are trained in this simple but critical skill, there is little you can do but call 911 and wait. You can be witness to cardiac arrest at any time. It is common in those with healthy, functioning hearts as well as older, less healthy individuals.
FireWhat Inc. will be holding CPR/AED classes. The classes are open to the public. Go to firewhat.com for more information, or call the friendly staff at (530) 235-4419.
About FireWhat Inc.
FireWhat Inc. is a start-up company founded by an MIT grad and two professional firefighters. FireWhat's mission is to provide a professional platform that inspires the highest quality of emergency service training and education. Through development of web and mobile products, FireWhat Inc. seeks to update the antiquated delivery of emergency services training and to incorporate innovation into a technology-deprived industry.
###