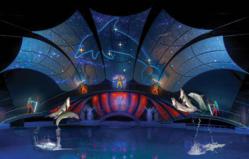 The Georgia Aquarium brings together all of the most desirable elements. We are pleased that this project has played such a vital role in the development and vibrancy of downtown Atlanta.
St. Louis, MO (PRWEB) November 15, 2011
PGAV Destinations, a global leader in the planning and design of entertainment and cultural destinations, is pleased to announce it has been honored with an Atlanta Downtown Design Excellence Award for its outstanding Community project.
The AT&T Dolphin Tales Gallery at the Georgia Aquarium was recognized for its innovative 84,000 square-foot expansion, which features 1.8 million gallons of aquatic habitats for the Atlantic bottlenose dolphins and a viewing theater for 1,800 guests.
"We congratulate the PGAV design team on winning the 2011 Atlanta Downtown Design Excellence Award. AT&T Dolphin Tales at the Georgia Aquarium is a prime example of the high-quality design that makes Downtown Atlanta a unique and exciting destination for visitors and residents alike," states A.J. Robinson, President of Central Atlanta Progress.
The $110 million project, which is about the size of two football fields, houses trained dolphins (Tursiops truncatus) and features dolphin encounters, viewing windows and shows. PGAV Destinations served as both architect and experience designer for the project, following their role as exhibit designer for the highly successful initial phase of the Georgia Aquarium.
"The Georgia Aquarium brings together all of the most desirable elements," says Jim Moorkamp, Principal of PGAV Destinations. "We are pleased that this project has played such a vital role in the development and vibrancy of downtown Atlanta."
About Central Atlanta Progress (CAP)
Central Atlanta Progress, Inc., founded in 1941, is a private nonprofit community development organization providing leadership, programs and services to preserve and strengthen the economic vitality of Downtown Atlanta. With a board of directors of Downtown's top business leaders, CAP is funded through the investment of businesses and institutions. CAP works side by side with the Atlanta Downtown Improvement District (ADID), founded in 1995 by CAP as a public private partnership for a livable environment for Downtown Atlanta, to create a thriving Downtown Atlanta community for all of its property owners, employees, residents, students and visitors. http://www.atlantadowntown.com
About PGAV Destinations
PGAV Destinations is a global leader in the planning and design of unique destinations. The firm uniquely combines award-winning storytelling and creativity with business strategy to create some of the world's most important cultural, heritage, and natural destinations. PGAV develops growth-oriented master plans and translates these plans into innovative new destination products. Now in its fifth decade, the firm has authored hundreds of highly successful projects in places such as SeaWorld, the Grand Canyon, Biltmore Estate, The Gettysburg Battlefield, the Georgia Aquarium, Kennedy Space Center, and Busch Gardens. http://www.pgavdestinations.com
Media Contact
Judy R. Goodman
Lents & Associates
1750 S. Brentwood
St. Louis, MO USA
314.968.3060
Jgoodman(at)lentsandassoc(dot)com
###