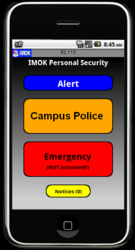 Atlanta, GA (PRWEB) November 15, 2011
Piedmont College (http://www.piedmont.edu), founded in 1897, located in Demorest, GA, is home to over 2,800 students and faculty. Piedmont College prides itself on providing a safe environment and turned to One Touch Security to insure they had the most advanced safety measures in place. Now with the touch of "one button" on a smartphone, an alert is sent to campus police smartphones, patrol car laptops, and computers. Campus police can instantly view the location of the student or teacher who is in duress, see their photo, and phone number; while simultaneously viewing the location of Piedmont police officers to coordinate rapid assistance. All locations are updated every 90 seconds.
In addition, campus police can securely chat with the person in duress or instantly touch the "call button" to call them directly from within the application. Students/faculty can instantly alert campus police if they see a person on campus with a weapon, are attacked, have an intruder, see fire, being robbed or assaulted, medical emergency, etc. The person in duress only has to push one button; they do not have to dial a number or speak. Students/faculty are able to notify campus police of danger on campus without involving themselves with the suspect. Since One Touch Security works worldwide it also provides protection for students studying abroad. This puts a silent alarm system in every dorm room, classroom, and in each person's pocket 24/7.
"One item students always have with them are their phones. Therefore, we integrated a cloud-based security system that works on their smart phone; with any carrier, globally, and is easy to use. Not only is this solution cutting edge technology, but it will prevent crime and possibly save lives." Jason Fox, Managing Partner, One Touch Security Systems.
About One Touch Security Solutions (http://www.OneTouchSecuritySolutions.com)
One Touch Security Solutions provides a cloud-based personal security system powered by IMOK. This utilizes patented technology to provide instant help with the touch of just "one button" on a smart phone. One Touch Security is one of the first in the world to offer third party 24/7 professional monitoring centers which can also be notified of such emergencies directly linked to a smart phone. One Touch Security provides solutions for overall safety and immediate response on for Colleges/University's, Hotels, Corporations, and the Real Estate Industry.
###