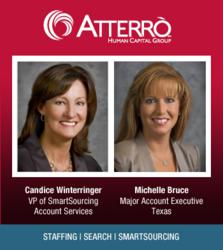 The caliber of attendees and speakers at the HR Leadership Summit encourages discussions that invariably yield new insights on issues common to many organizations
Minneapolis, MN (PRWEB) November 15, 2011
Atterro Human Capital Group announces its supporting sponsorship of the 2011 Houston HR Leadership Summit to be held on November 16, 2011, at The Houstonian Hotel , located at 111 North Post Oak Lane, Houston, Tex.
Clay Morel, President and CEO of the Atterro Human Capital Group, states, "We are proud to be among the sponsors of this gathering of distinguished HR executives in Houston. Atterro, through our Pro Staff brand, has established strong, trusting relationships with businesses throughout this region and we are looking forward to collaborating with them during this event and beyond. As the need for targeted, qualified talent at all levels advances, we stand ready to fulfill their expectations for exceptional service and quick response."
"The caliber of attendees and speakers at the HR Leadership Summit encourages discussions that invariably yield new insights on issues common to many organizations," adds Candice Winterringer, Atterro's Vice President of SmartSourcing Account Services. "Our expertise in talent acquisition, executive search and broad-reaching contingent workforce solutions can help provide answers to the unique challenges HR executives face today. Michelle Bruce, Major Account Executive, and I will be gladly sharing that expertise with Summit attendees."
Learn more about the HR Leadership Summit in Houston.
Atterro Human Capital Group offers interim staffing, executive search and SmartSourcing services to SMBs and corporate enterprises. Atterro's experienced industry professionals utilize the latest research, recruiting technology and assessment tools to serve clients through its four specialty brands—Digital People Creative and Marketing, Hunter Hamilton Finance and Accounting, Pro Staff Administrative and Light Industrial, and Ware Technology Services for engineering and information technology. For nearly 30 years, Atterro brands have built an unsurpassed reputation for matching the right talent to the right company, from short term assignments to complex project teams.
To learn more, visit atterro.com.
###