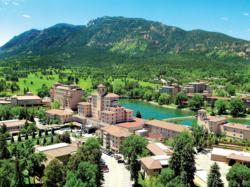 More than anything this is a reflection of the quality of our staff
Colorado Springs, CO (PRWEB) November 15, 2011
Forbes Travel Guide Five Star Awards announced its list of Five Star winners for 2012 and honored The Broadmoor in Colorado Springs, Colorado, for a record 52nd consecutive year. The Broadmoor is the only property to ever achieve this status. Additionally, the historic resort has the distinction in 2012 of continuing as Colorado's only triple Five Star winner with a third consecutive year of awards for both Penrose Room restaurant and http://www.broadmoor.com/luxury-spa-resorts/ The Spa at The Broadmoor.
"More than anything this is a reflection of the quality of our staff," said Broadmoor president and CEO Steve Bartolin. "By achieving this, these ladies and gentlemen placed themselves in a league that represents the very best in our industry."
The Forbes Travel Guide ratings process has is based on more than 750 standardized criteria for hotels, making it the most rigorous and comprehensive in the industry. The process begins with a facility inspection that considers every aspect of the property, including its overall cleanliness, condition, and location. To achieve Four- and Five-Star Status, properties must meet or exceed bar-setting service standards that are determined through an unannounced, undercover service evaluation conducted by the Travel Guide's expert inspectors.
For a detailed explanation of how Forbes Travel Guide compiles its Star ratings, visit http://www.startle.com.
About Forbes Travel Guide
Forbes Travel Guide, originator of the prestigious Mobil Travel Guide Star ratings and certifications, has provided the most comprehensive ratings and reviews of hotels, restaurants and spas since 1958. In October 2009, Mobil Travel Guide announced a strategic partnership with Forbes Media LLC. This exclusive licensing agreement between two industry leaders with more than 140 years of combined experience transfers the hospitality industry's premier star rating and travel guide brand from ExxonMobil to Forbes. Forbes Travel Guide has a team of expert inspectors who anonymously evaluate properties against rigorous and objective proprietary standards, providing consumers the insight to make better-informed travel and leisure decisions.
About Forbes Media LLC
Forbes Media encompasses Forbes and Forbes.com, the #1 business site on the Web that reaches on average more than 17 million people monthly. The company publishes Forbes and Forbes Asia, which together reach a worldwide audience of more than 6 million readers. It also publishes ForbesLife magazine, in addition to licensee editions in China, Croatia, India, Indonesia, Israel, Korea, Poland, Romania, Russia and Turkey.
About Penrose Room
Penrose Room, Colorado's only Forbes Travel Guide Five Star and is the most celebrated restaurant in Colorado history. Since 1961, Penrose Room has been cherished as one of the Rocky Mountain region's top destinations for classic fine dining with an extensive European wine list and live entertainment and dancing in a stylish atmosphere. Under the direction of Chef Bertrand Bouquin and manager Duane Thompson, the dining room, menu, service and the amenities are as well-rooted in classic hospitality and charm as they are in contemporary vitality.
About The Spa At The Broadmoor
Created by Resort Master Design™ specialist TAG Galyean, this 43,000 square foot spa, salon and fitness center features luxurious, exotic and essential experiences for the body, mind and spirit. The Spa offers cutting-edge products and treatments in a delightful and harmonious contrast to its backdrop of old-world charm and European elegance.
About The Broadmoor
Opened in 1918, The Broadmoor in Colorado Springs is located on 3,000 acres at the gateway to the Colorado Rocky Mountains. With 744 rooms and suites, the resort includes three championship golf courses, 18 restaurants, cafes and lounges, 26 retail boutiques, a seasonal outdoor and year-round indoor pool, outdoor heated lap pool and hot tub, fitness center, plus award-winning tennis. In addition to golf and tennis, activities include biking, paddleboats with hiking, horseback riding, jeeping, rafting and climbing nearby. The Broadmoor also features 185,000 square feet of meeting space including the 60,000 square foot pillarless, carpeted Broadmoor Hall.
The Broadmoor is a member of Historic Hotels of America and Preferred Hotels & Resorts.
Media Contacts: Allison Scott, Director of Communications ascott(at)broadmoor(dot)com 719.577.5718
Lindsey Hafemeister, Food & Beverage Marketing and PR Manager lhafemeister(at)broadmoor(dot)com 719.471.6188.
###