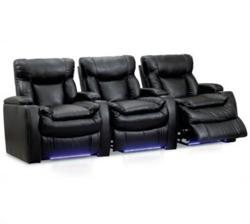 Our research shows that an increasing number of people per year stay home on Black Friday and do their shopping online.
Golden, CO (PRWEB) November 16, 2011
TheaterSeatStore.com, the premier online retailer of high quality home theater furniture, is excited to announce a new holiday savings extravaganza. Over the Black Friday weekend, customers can take advantage of discounts of 7% off their order on many of the high quality home theater seats available on TheaterSeatStore.com. This sale applies to many popular brands including Lane Furniture, BarcaLounger and Jaymar, among others, and it ends on Monday, November 28th.
"Our research shows that an increasing number of people per year stay home on Black Friday and do their shopping online", said Bruce Tucker, VP of Marketing for TheaterSeatStore.com. Tucker also had this to say, "Our customers are very savvy, they know that the web is where the best holiday prices are going to be found. Plus they avoid the traffic and chaos of the shopping malls. Our Black Friday sale on TheaterSeatStore.com is one of many ways that we strive to give them the best possible deals on home theater seating".
Taking advantage of the Black Friday discount is easy. Shoppers just need to visit http://www.theaterseatstore.com and browse through the many different home theater seating products available. These include high-end home theater recliners from leading manufacturers. Once they are ready to order, customers only need to type TSS7BLACK into the appropriate field of their checkout screen, and the discount will be applied automatically. Free shipping is included with every order, and customers can choose to upgrade to White Glove Delivery. This service ensures that new purchases will be delivered, placed in the home and assembled without the customer needing to lift a finger. First time customers and regulars can cash in on the Black Friday sale and save some money for the holidays.
With the downward turn of the economy, more and more shoppers are discovering the massive savings available with shopping online. They also enjoy the ease and convenience of fulfilling their holiday shopping lists with the simple click of a mouse. comScore, a leading source of e-commerce statistics, reports that shoppers spent over 17.5 billion dollars in online sales during the 2010 holiday season. That is an increase of 12% over 2009 sales. Much of that revenue came from sales during Black Friday. Sales on "Cyber Monday", which is the Monday after Black Friday and a leading shopping day for e-commerce, saw over 1 billion dollars in sales.
Black Friday is the day after Thanksgiving Day, and marks the beginning of the holiday shopping season. Retailers call it "Black Friday" because many of them report a large increase in profits on that day (also known as "being in the black"). Shoppers often wait in line hours before a store opens to take advantage of great deals on limited quantities of goods. The large number of people out shopping also causes traffic jams and other headaches.
About TheaterSeatStore.com – TheaterSeatStore.com is a division of InteriorMark, LLC, who is the market leading retailer of home theater furniture products, entertainment furniture, massage chairs, sofas and sectional sets and bedroom furniture. The company offers a wide range of products and services designed to enhance and decorate a living room space or dedicated home theater environment. InteriorMark is a member of the National Home Furnishing Association and Western Home Furnishings Association, and is an A-rated member of the Better Business Bureau.
###