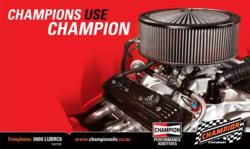 Clinton, MO (PRWEB) November 15, 2011
Champion Brands LLC, a leader in global lubricant manufacturing, announced today that Automotive Direct Distributors (ADD) of Aucklund, New Zealand has been awarded the "2011 International Warehouse Distributor of the Year" award from Champion.
This prestigious award recognizes ADD for exceeding Champion's distribution and sales expectations for International Commerce for the year 2011. The distinction was awarded during the week of the Specialty Equipment Marketing Association (SEMA) Trade Show in Las Vegas, NV earlier this month.
"ADD has shown excellent marketing collaboration and consistently maintained a high level of industrial, commercial, and consumer sales performance," said Mike Reddick, VP of Champion's International Sales Department. "The ADD team has focused on market penetration and demonstrated broad product gains in all of our lubricant categories. We are very pleased with the growth in their territory over such a short period of time."
"ADD is proud to be a part of Champion's long tradition of innovation and manufacturing excellence," said Sanjay Joshi, Director of Automotive Direct distributors NZ. "We are honored to receive this award, look forward to building our relationship with Champion, and continuing to provide solutions that exceed our customers' expectations."
For more about Automotive Direct Distributors NZ (ADD), contact information is P.O. Box 132081, Sylvia Park, Auckland, 1644, NZ. 1 644 +64 (9) 589 1123 and at http://www.championoils.co.nz
About the company: Champion Brands, LLC, is a globally recognized industry leader in specialty lubricants for over 55 years. Champion also produces and blends over 300 products including fuel, oil, engine additives, and lubricants for the automotive, racing heavy truck, agricultural, industrial, and specialty markets. For more information about Champion's Export Programs contact Champion at 800-821-5693. Champion Brands, LLC; 1001 Golden Drive, Clinton, MO, 64735 or go to http://www.championbrands.com
###