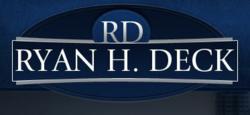 Round Rock, TX (PRWEB) November 14, 2011
A criminal conviction, whether for a simple misdemeanor or serious felony, can have serious consequences that can include jail or prison, large fines, and other punishments depending on the type and seriousness of the crime. Anyone found guilty of a crime faces the loss of certain freedoms and for that reason, requires a strong defense considering there much in jeopardy. The Law Office of Ryan H. Deck is dedicated to helping individuals when facing criminal accusations after an arrest or while under investigation for involvement in suspected criminal activity.
The law office teamed up with the successful website design and online marketing company Scorpion Design, Inc. The company has received recognition for its outstanding websites designed for attorneys and law firms across the country. This most recent website is devoted to criminal defense: http://www.RoundRockCriminalDefenseLawyer.com.
One who visits the site will find it modern and easy to use. It is full of helpful information about the different types of crimes and the ramifications if found guilty. A visitor can watch a lawyer discuss the firm and important criminal cases, available defenses and verdicts. The site allows the visitor a chance to make contact with an attorney online or by phone and get help with a criminal matter.
Ryan H. Deck is an experienced criminal defense attorney who spent approximately 2 years prosecuting as an Assistant District Attorney in Montgomery County before starting his defense practice. He proudly works as a solo practitioner and pays close personal attention to each client and each case throughout the entire legal process. Aggressive defense and the willingness to go to trial contribute to the best possible outcome in cases that law office defends. An accused should never face the criminal court system without the protection of his or her rights and tough representation from a defense attorney.
Visit the law office online or call and receive a confidential consultation. Contact a Round Rock criminal defense attorney today.
###