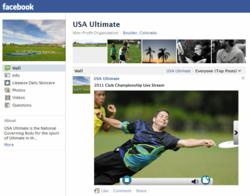 Clearly, the investment was well worth it, considering the service we were able to provide to our current members and fans of the sport
San Francisco, CA (PRWEB) November 16, 2011
DaCast, the first online video platform with a complete SaaS approach, today announces the results of the USA Ultimate Club Championships that were successfully live streamed with pay per view and over Facebook from the DaCast online video service.
"We were happy to team up with DaCast to stream out our annual Club Championships," said Andy Lee, Director of Marketing and Communications for USA Ultimate. "We feel that we were able to provide our members and Ultimate fans around the world with the opportunity to watch Ultimate played at the highest level. The live broadcast effectively reached more than 100,000 views by our fans, with a peak of about 15,000 simultaneous viewers. Clearly, the investment was well worth it, considering the service we were able to provide to our current members and fans of the sport."
The 2011 USA Ultimate Club Championships were presented live in two ways using DaCast's unique Streaming as a ServiceTM approach. The first was a free, standard definition broadcast directly from Facebook. Fans of the USA Ultimate Facebook page were able to watch an unprecedented 12 games from the tournament, resulting in an additional 15,000 likes for the national governing body.
The second method was a high definition broadcast behind a paywall. The pay per view charge, which was $1.99 per day or $4.99 for the entire 12 match event, was set up by DaCast. Pay-in-Play, the company's technology for capturing payments directly in the player, allowed the content to be viewed from USA Ultimate's Facebook page without the need to visit another site or service.
The event was broadcast for four days from October 27th through October 30th at Sarasota, Florida. It included the Masters, Mixed, Open, and Women's Divisions. For more information on the Championship, visit http://www.usaultimate.org/competition/club_division/club_championships/
About DaCast
DaCast specializes in delivering streaming as a service for easy monetization for more than 4,000 broadcasters. The company is headquartered in San Francisco, California. For additional information, visit http://www.dacast.com.
About NexGen Ultimate Tour
NexGen Productions is a media and event production company that utilizes new media and technology to bring increased exposure to niche markets. They have a bus headquartered in Eugene, Oregon that propels the NexGen Ultimate Tour around North America (http://www.nexgentour.com) and they fly with their production equipment in tow to live stream events around the world. Contact kevin(at)nexgentour(dot)com for more information.
About USA Ultimate
USA Ultimate is the National Governing Body for the sport of competitive Ultimate Frisbee in the United States. Recognized by the World Flying Disc Federation, USA Ultimate is a non-profit organization based in Boulder, Colorado which promotes, administrates and governs the sport Ultimate nationwide.
USA Ultimate is a membership organization which includes more than 40,000 individual members, half of which play for the more than 750+ officially-sanctioned college and university teams throughout the country. Ultimate Frisbee was recently deemed one of the fastest-growing team sports in America by the Sporting Goods Manufacturers Association, with nearly 5 million people actively playing in the United States.
###