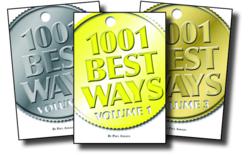 If you ask enough people the right questions, you're bound to get the right answer sooner or later.
(PRWEB) November 15, 2011
1001BestWays.com, which publishes the Best Ways to manage life's biggest challenges, announced 25 Best Ways To Advance Your Career, as submitted by its readers.
"If you ask enough people the right questions, you're bound to get the right answer sooner or later." That's the thinking behind 1001BestWays.com, which publishes its readers' Best Ways to raise children, save money, advance a career, fall in love, stay in love, and more.
Their unedited responses are read daily by over 15,000 Twitter followers (@1001BestWays), the readers of 1001BestWays.com, and the buyers of the book series.
"1001 Best Ways is the lifetime experiences of hundreds and thousands of people", says publisher Paul Angles, "Every day, I am humbled by the collective wisdom people so willingly share."
Best Ways To Advance Your Career
Just Show Up.
One thing that can advance your career or end it, is your attendance. If you miss a lot of work you can be fired. If you always come to work and have a good attendance record employers appreciate and recognize this. Be on time and ready for work, don't come in late or frazzled.
Leave Personal Life At Home.
Learning to keep ones personal life out of the workplace is essential in any job. I have seen to many peoples careers cut short because of outside personal things get in the way of them working to their full potential. I keep personal calls to a minimum, ie emergencies only, and don't talk about weekend plans with coworkers.
A Higher Diploma = Advancement.
I am into website designing. I was ok in my field. Then i decided to get a higher diploma in website designing. It really has helped me in my field. I got to know different techniques, a lot of study material to work upon practically. Now i am definitely doing 1-2 levels up than where i was six months ago.
Dedication Without Complaining.
One thing that I've always done is to go out of my way to show my dedication towards my work duties. I always do jobs that no one else wants to without complaining. This kind of dedication has always made it easier to ask for raises in the future.
Learn From Every Job, Even The Ones You Hate.
The best benefit to my career has been learning from each job I've had, even those I may have hated. A prime example is my most recent job as a call center agent, accepting incoming phone calls. The first week of training, I found myself panicking, thinking "there's no way I can do this job." I only stuck with it because I couldn't afford to be out of a job at the time. Each day, I found myself improving a little. So, from that job, I learned that I am stronger than I thought, I just have to stick with it and make the most of each job.
Go To Conferences And Teach.
I go to conferences, not because I am required to like most people are in their jobs, but because I like to obtain all the knowledge possible for my career field in Law Enforcement. I learn what I can from the speakers that present from all around the country and then I teach others in my field about new developments and technology.
Get To Know Other Departments.
I have benefited my career by taking the time to get to know people in different departments. By doing this word got around that I was a trustworthy and hardworking employee. This eventually got to the boss and I was promoted just because of word of mouth.
Get An MBA.
I decided to go back to school to work on my MBA, and already I feel hopeful about the prospects for turning my career around!
Join Toastmasters.
I joined Toastmasters in the fall of last year. Already I think it's helped make me speak more confidently, not just in front of groups but in small conference rooms when I had to make a point clearly and articulately.
Read The 7 Habits.
I just transferred school's this year-- jumping from public to a very rigorous private. A teacher reccomended I read the 7 habits of highly effective teens, and it has motivated me to start a blog, where I detail my goals and challenges. This daily reflection is not only valuable, but also teaches writing etiquette and gives me a chance to do some "soul-searching every day"
Get A Degree. Start A Business.
I am currently going to school to get a degree. I have also started my own business.
Go Back To School And Ask For A Raise.
I went back to school so I could ask for a raise a year later. Since I did that I was able to show that I had allot more to offer my company. It has helped me in so many ways, and im so proud of myself!
Learn To Type Fast.
1- I always tell people that the most practical course I took as a child was typing. I use those skills learned in 7th grade daily. I work faster and type better than most of my counterparts. Recommend typing to young people you know.
Start With A Technical College.
I was tired of working a manual labor job for minimum wage so I decided to attend a technical college. I graduated there and transfered my credit to a 4 year college and finished up my associates degree. It was the best decision I have made as I am much happier with my life!
Advertise.
I teach music lessons. The one thing I've done that has benefited my career is place an ad in a parent magazine. This magazine targets parents in my specific area. It was worth the money.
Work In A Disaster Zone.
The one thing that I've done to benefit my career was to go to work in a disaster zone. It allowed me to serve people, gain valuable experience in my field, earn a great salary, earn brownie points with new employers, and give back to the community. Plus, it made for a great topic in interviews and allowed me to obtain my dream job.
Take Certificate Courses.
I've taken certificate courses to demonstrate that I've added skills. I then followed up by taking and passing a series of professional exams related to the skill.
Get A Master's Degree.
Without a doubt, the number one best thing I've done for myself and my career has been to go back to school for my Master's degree. It's been difficult balancing the two, but I know that I'm bettering myself through a good education.
Go Back And Get Your Diploma
The best thing I ever did for my career was going back to college and earning my diploma. The construction business that I worked for closed its doors(the recession of 2007) but since I got my diploma I have a great job with great pay.
Take College Classes.
I'm enrolled in college classes to broaden my career opportunities. Even though it takes a while, I believe it's worth the time.
Be Yourself.
Being myself even if it meant not being popular. I have been loyal to whomever I have worked for. I have always been able to say something nice about everyone I have ever worked with. Never have I ever used my work email for personal use nor my work computer for personal use.
Take Computer Programming.
i am learning new things to help advance my career. i am enrolled into a local college to learn computer programming.
Build Relationships And A Network.
The best step I've taken to advance my career was to build relationships and a network with colleagues and others who have connections to my field. It has been valuable in advancing myself in the work place, finding new opportunities and growing as a professional.
Go Freelance.
I worked for many years as a teacher which, for the past decade has become very stressful and very political. I went free lance, which gives me the freedom to tell someone who wants me to tutor their child that I think perhaps someone else would be "a better fit." I am making enough more money per hour so I can handle the medical and retirement myself. With free lancing anyone can dip their toe in the water before they take the full plunge.
Respect Your Boss and Your Company In Public.
Always respect your boss and your place of business. Don't go bad mouthing them on the internet. Don't use facebook or something like that to say bad things about your boss, your company, or customers. These are public forums and it will get back to your boss and other people involved. Don't be so stupid to do it in the first place but, if you must don't do it under your own name.
The Story of 1001 Best Ways
Paul Angles, an Internet Marketing Director, was driving home from work, stuck in traffic, and thinking about ways to cut back on the family budget, when he heard a commercial for an Internet Service Provider--his Internet Service Provider!--offering new subscribers $20 off per month for the first year.
Suddenly inspired, he called them and asked for the new subscriber rate. He was promptly turned down. Undeterred, he asked the operator if he could cancel his account and restart it at the new rate. That did the trick. With less than 5 minutes work, he saved $240 without having to cut back on anything.
It was so much fun saving so much money that he began to wonder who else he could call. And which of his friends he could tell. And what ideas they might have. And how there ought to be a website that collected those great ideas and made them available.
Soon, he created 1001BestWays.com and began collecting Best Ways by the hundreds, posting them hourly on the website, tweeting them, and finally, collecting them into a series of books available in Kindle and in paperback on Amazon.com, BN.com, and many others. 1001 Best Ways, Volume 4, is scheduled for release in November 2011.
# # #