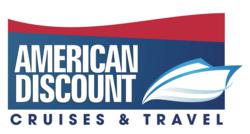 Without any direction, he has figured out a way to give a small company a nationwide presence.
Englishtown, NJ (PRWEB) November 15, 2011
Travel Agent magazine's annual "30 under 30" list became a "35 under 30" list this year, reflective of the increasing young talent present in today's travel industry. This prestigious list features the travel industry's newest rising stars. Among the 2011 winners was Joad Hamed, Vice-President of American Discount Cruises & Travel. Part of the company from its very start, Joad oversees the travel agency's daily operations, with a focus on marketing and web-development.
"It's truly an honor to be selected as one of the '35 under 30' in the travel industry. I look forward to continuing to grow our business in the years to come, and hope to see more and more young people joining our exciting industry," said Hamed.
Established in 2003 by industry veteran Marcy Hamed, American Discount Cruises & Travel quickly became a nationwide leader in providing cruise deals and hotel packages. Among the company's award-winning history has been Partner of the Year with both Royal Caribbean & Celebrity Cruises, President's Club recognition from Norwegian Cruise Line, and Excel Gold status with Princess Cruises. Discounted cruises and hotel packages can be purchased from their cruise deals web site 24/7, or by calling 1-866-214-7447.
"Joad has been the single most important contributor to the success of our company," says Marcy Hamed, owner of American Discount Cruises & Travel. "Without any outside direction, he has figured out a way to give a small company a nationwide presence."
Travel Agent magazine launched their first Young Leaders Conference in Las Vegas, during 2010's Luxury Travel Expo. This event will be held again this year (December 5-6, 2011), at the Mandalay Bay Resort & Casino in Las Vegas, where the "35 under 30" winners will be honored. Travel Agent magazine's November 14 issue will showcase the 2011 "35 under 30" recipients in a cover story about their rise to the top.
"Traditionally, Travel Agent magazine has recognized 30 outstanding travel agents under the age of 30, but the uptick of youthful professionals entering the industry resulted in so many amazing submissions this year, that we are honoring 35 agents," said Ruthanne Terrero, editorial director and vice president of content for Questex Travel Group (of which Travel Agent magazine is part of). "This growth is a clear indication that the efforts made by the consortium and other industry leaders to continue revitalizing the travel agent pool is working. We're thrilled to be a part of that outreach and reward these agents for their successful endeavors."
"Like" American Discount Cruises & Travel at their Facebook page, or "follow" them on Twitter, to make sure you're aware of the latest and greatest cruise deals.
# # #